The Board of Control for Cricket in India on Thursday congratulated its president-in-exile N Srinivasan for being elected as the first chairman of the ICC, saying there could not have been a better person for the position.

The International Cricket Council, in its Annual Conference held at the Melbourne Cricket Ground unanimously approved the revamp of its corporate governance structure by amending the Memorandum and Articles of Association.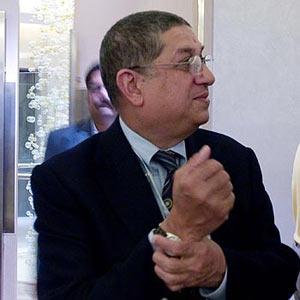 "The BCCI wishes to congratulate Mr. N. Srinivasan on being unanimously elected as the first Chairman of the International Cricket Council (ICC) for the period 2014-2016 of two years, post its historic restructuring," BCCI secretary Sanjay Patel said in a release.

"It is a proud and historic moment for Indian Cricket, and on behalf of all the members of the BCCI, we wish him all the best. As India takes the leadership position in World Cricket, the responsibility of guiding the game in these challenging times could not have found a better leader than Mr. Srinivasan," the release added.

Patel said it is also imperative that all the stakeholders of Indian Cricket stand united and support these endeavours, as "we seek to play an important and definitive role in World Cricket".
- 10 facts you must know about BCCI chief N Srinivasan

"This establishes the important role that the BCCI will essay, as we take this responsibility to work with other members during these days of growth," Patel said.

Srinivasan, who emerged as the leading candidate to become ICC chairman in February, will assume office almost immediately after the governing body rubber-stamped constitutional changes at its annual conference being held this week in Australia.

Often described as the most powerful man in cricket, Srinivasan became the Board Of Control For Cricket In India (BCCI) president in 2011 but was ordered to step aside in March to ensure a fair investigation into an illegal betting scandal during last year's Indian Premier League involving his son-in-law.

The ICC also announced other administrative changes with Mustafa Kamal of Bangladesh elected as its new president, now a titular post, while a new executive committee headed by Cricket Australia chairman Wally Edwards was also formed.

England and Wales Cricket Board chairman Giles Clarke will continue to head the ICC's Finance and Commercial Affairs Committee in a new structure that will see the "Big Three" boards pocketing the greater share of ICC revenue.
Image: N Srinivasan
Photograph: Ritam Banerjee/Getty Images