ICC signs eight-year Nissan sponsor deal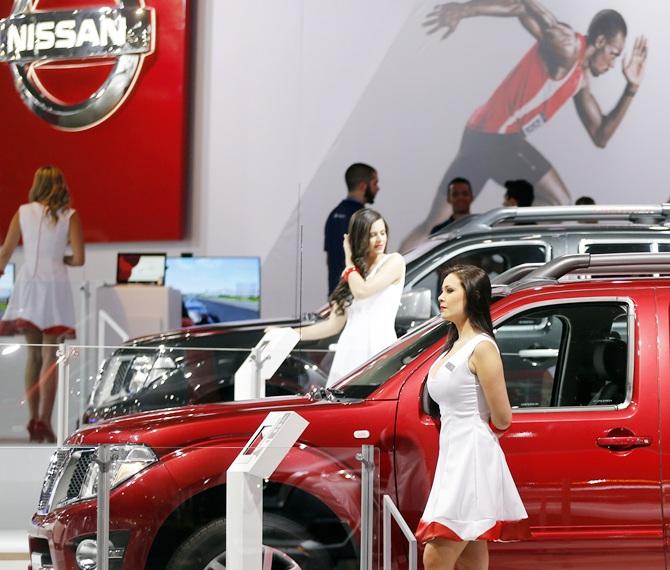 IMAGE: Models pose next to Nissan cars. Photograph: Paulo Whitaker/Reuters
Nissan Motor Co has entered into an eight-year sponsorship agreement with the International Cricket Council (ICC), a company executive said, in a bid by the Japanese car maker to boost its small market share in cricket-crazy India.
Nissan's passenger vehicles sales in India fell 24 per cent to 19,563 in the six months from April to September, compared with the same period a year ago, giving it a 1.5 per cent share of the market, industry data showed.
India is forecast to become the world's third-largest car market by 2020.
The slowdown in India sales has forced Nissan and its global carmaking alliance partner Renault SA to cut several hundred jobs in the country and reduce production at its plant near Chennai.
ICC is cricket's world governing body and India is a key member and its biggest revenue contributor. The deal, whose value was not given, runs through 2023 and confirms Nissan as a sponsor of cricket's international tournaments.
"We have a long term view in India... we want to grow India to at least a 5 per cent market share over time," Roel de Vries, global head of marketing and brand strategy at Nissan, said.
"Cricket itself will not do this. But cricket together with the dealers, good customer satisfaction and with good products gives us a very good chance," he said. Nissan spends about 5 per cent of its marketing budget on sponsoring sports events.
Nissan's decision comes amid media reports that PepsiCo wants to end its title sponsorship of the scandal-hit Indian Premier League (IPL), one of the world's richest sports leagues with $3.5 billion estimated brand value.