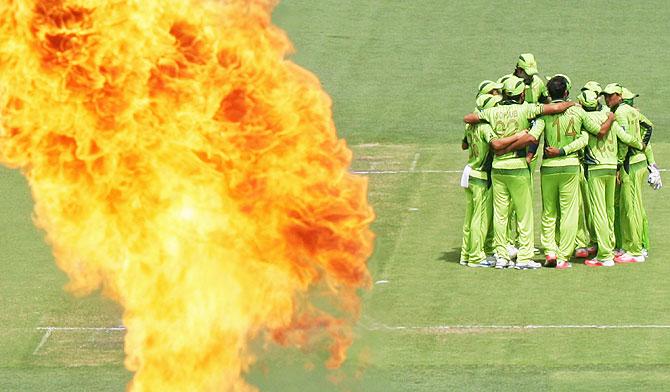 IMAGE: Pakistan cricketers form a huddle (Image used for representational purposes). Photograph: Scott Barbour/Getty Images.
The International Cricket Council, on Friday, decided to allocate some special assistance fund to Pakistan Cricket Board considering the financial issues that the board is facing in absence of international cricket in the country.
"The PCB made a request for a special assistance fund to be allocated to Pakistan in light of its financial issues related to not being able to compete at home. The ICC Board, on the recommendation of the Financial and Commercial Affairs Committee, agreed that some form of assistance will be provided and the matter will be discussed with PCB going forward," the ICC said in a release after concluding its Board meetings in Cape Town.
The ICC also decided to give $ 500,000 each to Ireland and Afghanistan to stage more ODIs and T20Is, besides paying $ 250,000 to each of the other Associate Members with ODI and T20I status for the same purpose.
The ICC also accepted the request of Cricket Australia to host women's ICC World T20 2020 as a stand-alone event six months ahead of the men's edition.
The ICC Board also approved an application from Cricket Ireland to award first-class status to Ireland's domestic competition the Inter-Provincial Championship and by extension to its Inter-Provincial ODI and T20 competitions.
Regarding governance of the ICC, the board said, "Work continues on the future governance structure of the ICC, including the revenue sharing model, and a comprehensive proposal is expected to go to the ICC Board early in 2017."
On International Cricket Structures, the ICC said, "There was further discussion around the structure of international bilateral cricket as members collectively aim to bring greater context across all three formats of the game with more progress made.
"Further work will be undertaken around scheduling before a full proposal for consideration will go to the ICC Board in February."
The ICC Board also considered a proposed governance structure prepared by the USA Sustainable Foundation Advisory Group, together with USACA's comments and approved a modified version for incorporation by USACA.