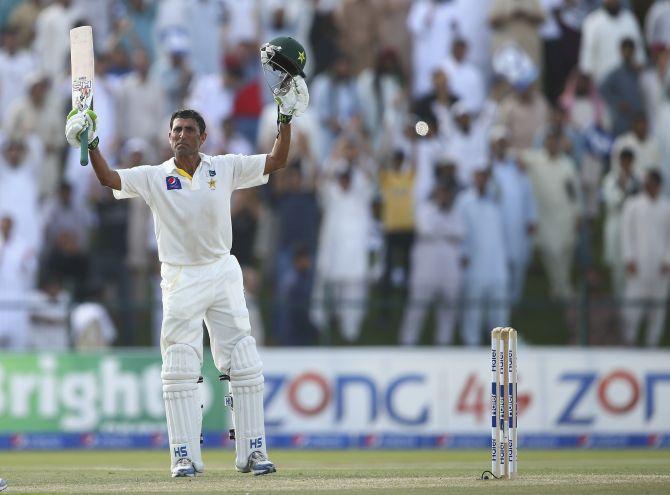 Younis Khan. Photograph: Ryan Pierse/Getty Images
Senior Pakistan batsman and the toast of the cricket community, Younis Khan, has said that he always took criticism constructively.
"I always look at the positives when criticised. I take it constructively. At same time I have never allowed criticism to deter me or deflate me," Younis said on Geo News after he scored a record breaking 171 to lead Pakistan to a series win in the third Test against Sri Lanka on Tuesday.
"I have never doubted my own ability no matter what anyone says. My biggest driving force has been my fans and my family," he said.
The former Pakistan captain said that he had always played for the team and country.
"I always back myself to do something for the team and this innings was no different."
Younis said that he had faced many ups and downs in his career but always came back stronger.
"I was hunting for a big score and I am happy it helped Pakistan win. But the victory was due to a team effort. Shaan Masood played a remarkable innings and was oozing with confidence in the middle.
"When we started the fourth innings we believed we could achieve the target even on this pitch. I have always backed this team because it has some very good players who are not shy of challenges."
Younis also praised leg spinner Yasir Shah and pacer Imran Khan for bowling outstandingly well in the final test to set up the win.
Younis's 171 is the highest score by a Pakistani in the fourth innings in a Test and it was also the fifth overall in the fourth innings. The Karachi based but Mardan born Younis who turns 38 in November has insisted that he has no plans to retire soon and is backing himself to deliver more for Pakistan.
Sources close to the senior batsman say he is keen to lead the national team one more time before he finally decides to call it a day.