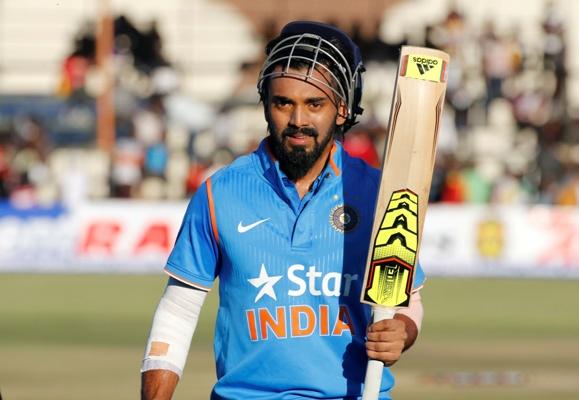 IMAGE: India's Lokesh Rahul celebrates after scoring a century in the first ODI against Zimbabwe. Photograph: Philimon Bulawayo/Reuters
India opener Lokesh Rahul says he always knew he had the ability to do well in every format of the game.
The 24-year-old from Karnataka, who amassed 196 runs in the series from three innings, which included an unbeaten century and a half-century, was adjudged the player of Wednesday's third and final ODI against Zimbabwe and man of the series.
"I always knew I had the game to do well in every format. It was just a matter of time. The last couple of months have been really good," said Rahul, who scored an unbeaten 63 off 70 balls to guide India to a 3-0 whitewash of Zimbabwe.
"I got the opportunity to play for RCB (Royal Challengers Bangalore) and then getting a call up to play for India has always been a dream. And then to come out here and perform the way I have is really pleasing. I'm very satisfied," he added.
The only Indian batsman to get a chance to shine in the lop-sided ODI series, he gave credit to India's bowlers, who came up with a stupendous performance in the series.
"Lot of credit goes to our bowlers for making our job easy. I knew I could go out there, take my time and play proper cricketing shots and not get carried away.
"Obviously after getting the hundred and when you are in good form, it is easy to go out there and try to hit sixes and finish the game early. So it was a challenge for me to remain calm and play my natural game and give the ball and the bowlers the respect. That was the plan for me and I am happy the way I batted in this series," he added.
Rahul is the only player in the side who will tour the West Indies along with India's Test squad next month.
Asked if it would be easy to switch to the Test mode, Rahul said: "I don't know, once I go there and see the red ball swinging, I will know. Obviously playing here, the ball is swinging a bit but it is not like the red ball. I am not thinking about West Indies yet.
"What's on my mind right now is to switch to the T20 format, to prepare for the next two days and come out all guns blazing."
Zimbabwe captain Graeme Cremer said failure to rotate the strike by the batsmen affected his team's chances of posting a good total on board.
"We didn't see through the new ball to put up 260-270 which we thought was par. We got stuck in middle period, and then lost grip. We just couldn't rotate strike, and that put pressure on our batsmen," he said.
"We have a T20I squad, and we know we can challenge good teams on our day. We'll have to pick ourselves up to try and compete in that series."
Spinner Yuzvendra Chahal, who took six wickets in the series, said: "There was a bit of pressure initially, but things settled down after that. The wickets were a touch slow, and the outfield was big, so that helped."