'I am not competing with anyone at all'
'It's my job; I am supposed to do what I am doing and I am not doing anyone a favour.'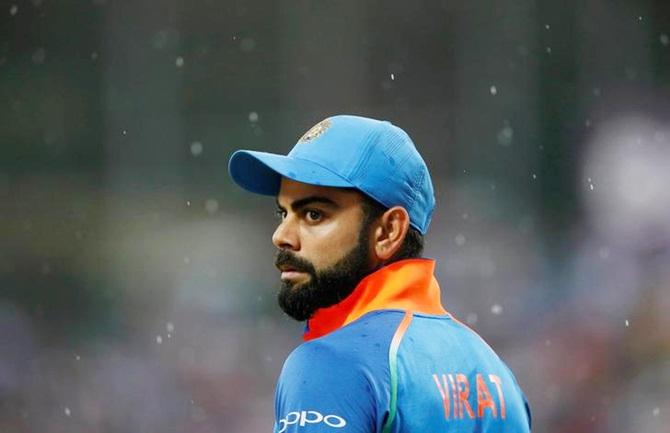 IMAGE: India's batting machine Virat Kohli says he's not a 'headline grabber'. Photograph: Dinuka Liyanawatte/Reuters
Virat Kohli has literally made the 22-yard strip his own kingdom and is in no mood to "compete with anyone" for any specific "tag", like best batsman in world cricket.
India's captain was again at the forefront, scoring a staggering 558 runs (including three hundreds) in his team's 5-1 ODI series rout of South Africa, but made it clear that he has never ever played cricket to be a "headline grabber".
"At this stage, I don't feel like competing with anyone. It's all about how I prepare before the game and what my work ethics are and how I am feeling on game day. My only motivation is to get into that frame of mind. I am not competing with anyone at all," declared Kohli, at the post-match press conference after India beat South Africa by eight wickets in Centurion on Friday night.
The key to consistency is not thinking too ahead. "But if you are thinking about being ahead of someone else then you will be found out very soon by this game and you are compromising on what the team needs as well," he opined after anchoring his team home with yet another ODI hundred.
Asked if he can now be called the best batsman in world cricket, the straight-talking skipper replied: "As I said, I don't want any tags. I don't want any headlines. I just go out there and do my job; it is up to the people to write what they write. I don't want to be called anything.
"It's my job; I am supposed to do what I am doing and I am not doing anyone a favour… so just want to be in this zone of working as hard as I can and trying to do the best for the team," Kohli added in a matter-of-fact manner.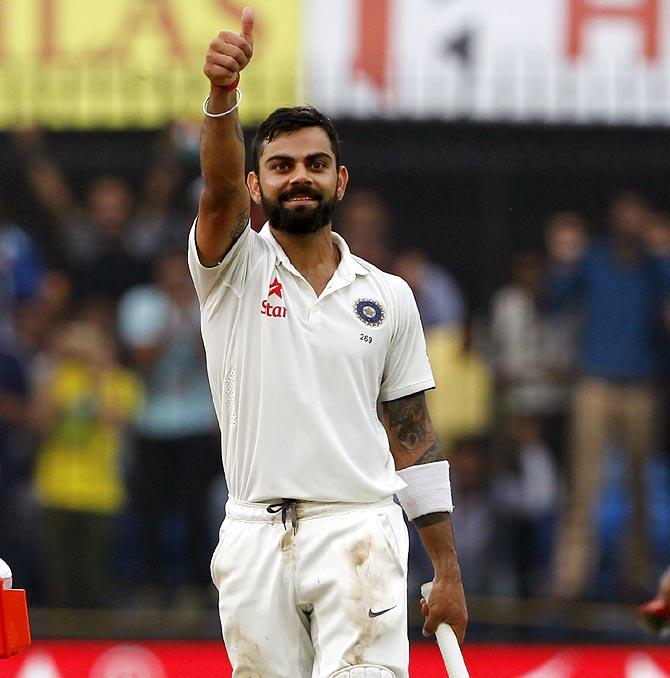 He again made it clear that public perceptions are least of his concerns as long as his team knows his worth.
"What matters is what the management thinks about me, what I think about the players and what the players think about me. That's all that matters to me.
"I know the headlines change from day in and day out. Tomorrow I play a bad shot and get out for zero everyone will conveniently do what they want to do. So it's not my job to say anything about what I do.
"Yes, if I make a mistake I will come here and accept it. I have never been one to give excuses and will remain like that. But I am never one to come here and praise myself. I can never do that because, as I said, this is a job for me. I am not doing anyone a favour," he said, the statement indicating how criticism in the past has hurt him.
While India's ODI juggernaut has rolled on, there have been questions raised about the quality of opposition playing ODI cricket and the skipper's views made it clear that he wasn't amused one bit.
IMAGE: India captain Virat Kohli leads his team out to the field. Photograph: BCCI
Asked if this was India's best overseas win, pat came a terse response: "You people can tell!
"One month back we were a very bad team. Now we are being asked these questions. We haven't changed our mindset. Now whether this is the biggest win or no, whoever wants to analyze, write, will do so."
His response made it clear from where it was coming. It was a sense of deja vu for Kohli, who had a slight altercation with the media at this very venue after the team lost the Test series.
"I know for a fact that 90 per cent people didn't give us a chance after two Tests. I was sitting in the same room giving a press conference. So we understand where we've come from."
"I am not going to live in a dreamland right now and accept all the praise, sit here and feel good about this, because it doesn't matter to me. Honestly, it doesn't. It didn't matter when we were 2-0 down, it doesn't matter now that we are 5-1 up because what matters is the respect in the change-room."
He sounded a bit irritated when asked about South Africa being laid low by injuries to senior players.
"Whether the team was what it was supposed to be was not in our hands. It's none of our concern. We want to take the best team as far as we can on the field and have the best mindset to perform on every given day that we represent our country. That remains our mind set regardless of what happens."