'My name is coming up unnecessarily. I don't qualify.'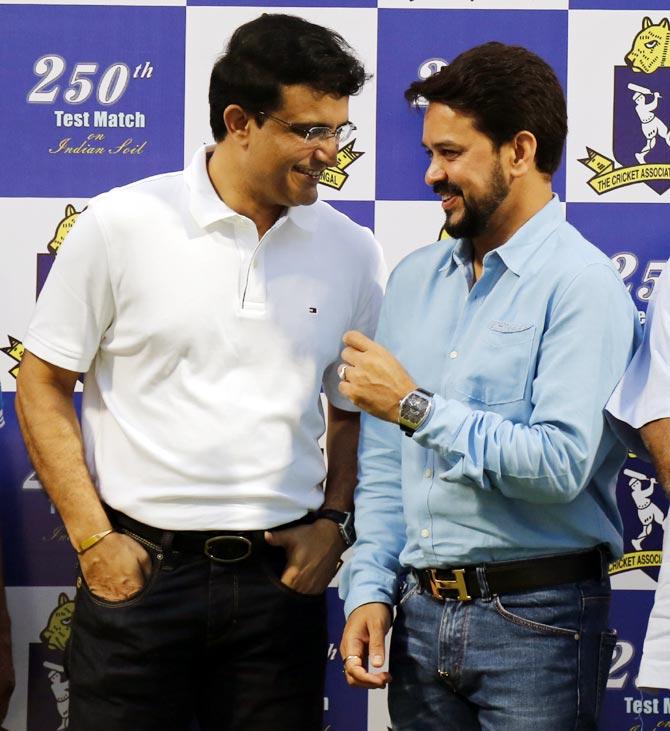 IMAGE: Cricket Association of Bengal president Sourav Ganguly, left, with former BCCI chief Anurag Thakur. Photograph: BCCI
Former India captain and Cricket Association of Bengal president Sourav Ganguly denied he is a frontrunner to become the president of Board of Control for Cricket in India.

The apex court on Monday ordered removal of Anurag Thakur and Ajay Shirke from the posts of BCCI president and secretary respectively for not complying with its July 18 order with regards to implementation of the Lodha Committee reforms.

Dismissing the suggestion that he was running for the post of BCCI president, Ganguly said on Tuesday: "My name is coming up unnecessarily. I don't qualify. I have just completed one year (as the CAB president) and have got two more years left. I am not in the running (for the BCCI president's post)."
The apex court has asked senior lawyer Anil Divan to work with senior advocate Gopal Subramaniam, who is assisting the court as an amicus curiae in the matter, and suggest names of the administrators for running the BCCI. The court has asked the two lawyers to suggest names of possible administrators within two weeks.

Asked whether the CAB would implement the Lodha Committee's reforms, Ganguly said the association had no option but to obey the Supreme Court order.

"We are having an office-bearers' meeting tomorrow (Wednesday) where we will decide on the future," he said.

The CAB chief said even though several of the present officials would be ineligible to contest in the association's polls, there would be others to fill the void.

Ganguly said CAB will hold its Special General Meeting only after the conduct of the third ODI between India and England at the Eden Gardens in Kolkata on January 22.