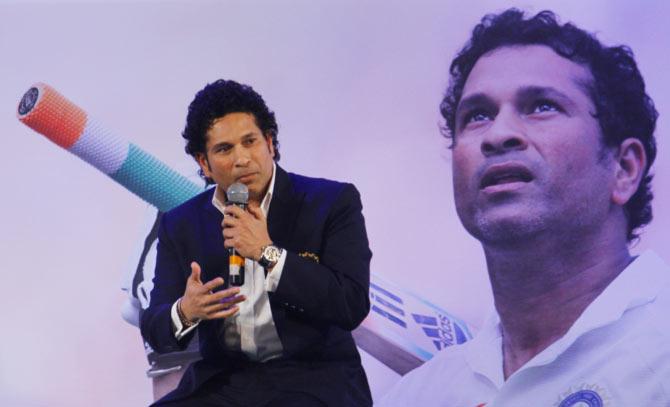 Former India batsman Sachin Tendulkar. Photograph: Hitesh Harisinghani/Rediff.com
Looking for 'satisfaction' after retirement, India's cricket icon Sachin Tendulkar says he plans to light up lives in villages where electricity remains a distant dream even to this day.

The former batsman, who is a Rajya Sabha MP as well, said he is aiming to ensure that villages get access to electricity.

"My second innings is more about satisfaction. Many villages don't have electricity and life there comes to a standstill after sunset. This is one thing I want to change," Tendulkar told Star Sports.
- Buy Tendulkar's autobiography 'Playing It My Way' right here on Rediff

"It is going to require a lot of support and I hope I get it from everyone," said the batting legend, who recently adopted the Puttamraju Kandrika village in Andhra Pradesh as part of a government initiative.

On to cricket and Tendulkar offered an insight into how tough it is playing in Australia, where the national team is currently playing a Test series.

"It (Australia) will make your life difficult. The players, media, groundsmen, everyone will make your life difficult but if you do well they are the first to stand up and applaud you. That's what I like about them," Tendulkar said.

Tendulkar played six 50-over World Cups and was part of the Indian team which won the trophy in 2011. Speaking of the upcoming edition in Australia and New Zealand, Tendulkar said he would enjoy from the sidelines this time.

"I don't like to coach when I am not playing but I will be watching. I strongly believe that we have a very good chance. We just have to focus on process, the result will take care of itself," he said.