'May be my face is weird, his is not'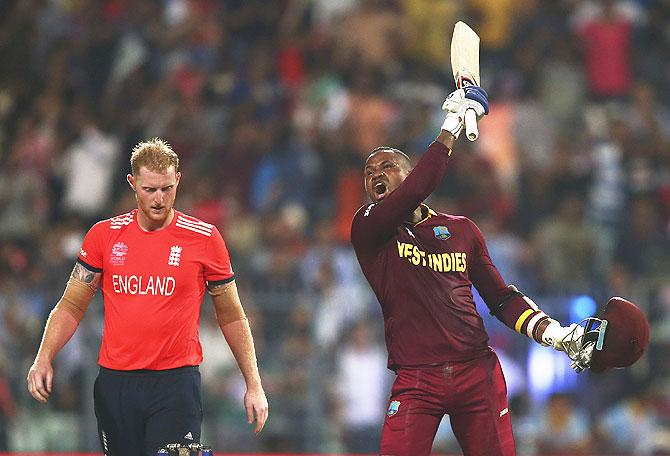 IMAGE: West Indies' Marlon Samuels celebrates after Carlos Brathwaite hit the second six of the last over as England's Ben Stokes looks on during their ICC World Twenty20 Final at Eden Gardens in Kolkata on Sunday. Photograph: Ryan Pierse/Getty Images
An irate Marlon Samuels trained his guns at Shane Warne as he dedicated his match-winning knock to the Australian spin legend, whose comments spurred him to do well.
- How 'Champions' West Indies created history at Eden
- Emotional Sammy slams West Indies Cricket Board
"I woke up this morning with one thing on my mind. Shane Warne has been talking continuously and all I want to say is 'this is for Shane Warne'. I answer with the bat, not the mic," Samuels said at the post-match presentation ceremony on Sunday.
"I played a Test series in Australia (in January 2016) and Shane Warne has a problem with me. Don't know why. I've never disrespected him. It seems that he has a lot inside him that needs to come out. I don't appreciate the way he continues to talk about me and the things that he keeps doing," Samuels blasted the Aussie spin-wizard-turned-commentator.
The Samuels-Warne feud was reignited during his semi-final dismissal against India. Warne was in the commentary box and said he always had confidence in himself to produce another key performance in a final.
The duo also had an infamous run-in during the Big Bash in 2013 which continued into Test series earlier this year.
He also took an indirect dig at Warne's botoxed face and quipped: "May be my face is weird, his is not..."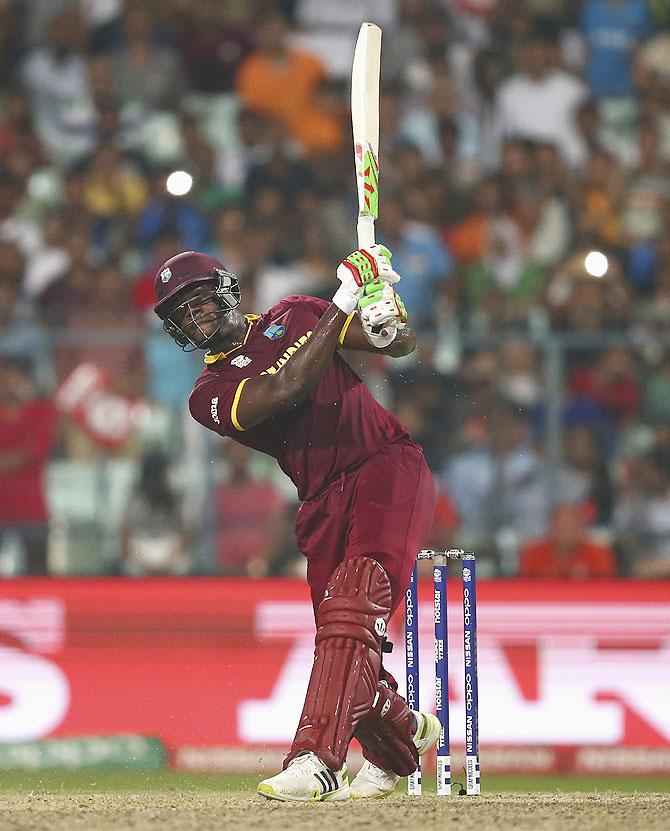 IMAGE: Carlos Brathwaite of the West Indies bats. Photograph: Ryan Pierse/Getty Images
There were words exchanged between Ben Stokes and Samuels before Carlos Brathwaite smacked the English medium pacer for four consecutive sixes in the final over to complete their four wicket win.
He said he thrived on the battle with Stokes.
"I keep telling him do not speak to me when we play each other because I'm going to perform. I knew that I had to be right there again. That's what I thrive on, that's why I'm around for so long despite so much of ups and downs."
With 19 runs required from last over, Carlos Brathwaite, who has been bought by Delhi Daredevils for the next season of the Indian Premier League, showed his prowess with four sixes and said keeping cool was the key.
"I don't think I've to use much words to explain that. We have done that on many occasions. We have believed in ourselves. We believe in each other. When a next player goes out there to bat we believe that he can do it for us. We stay calm. The most important thing is we don't panic in any situation."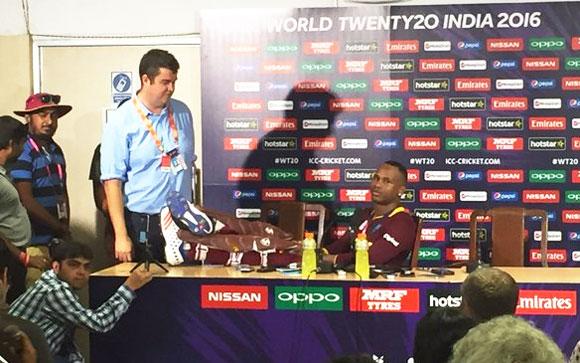 IMAGE: Marlon Samuels looks relaxed at the post-match press conference on Sunday. Photograph: Twitter
"I told Brathwaite to hold his pose. He is (Stokes) going to bowl a couple of full tosses as always. It worked in our favour. He played a brilliant knock to give me a breather at the other end."
Earlier, he surprised the packed news conference when he spread his padded up legs on the table and had his way despite ICC's request to put his feet down.
Samuels said the negativity and talks fuelled their motivation to win the tournament.
"There was a lot of negative stuff, not just in couple of weeks but over the year. We wanted to improve in ODI and Test. We have been a force to reckon with in T20. Yet there was a lot of negative talk when we entered the tournament.
"We should be given the due credit. We are a wonderful team. We play with passion and love for not ourselves but for the Caribbean people. Cricket means the entire world today just as it's religion in India."