'People were wondering we would plays this tournament, we had issues with the board, Mark Nicholas called us players with no brain. But all of us came together'
Sammy also took a dig at the board as he is not selected in the 50-over format
IMAGE: West Indies's Darren Sammy, centre, celebrates with team-mates their win over England in the final of the ICC World Twenty20. Photograph: PTI Photos.
Skipper Darren Sammy, on Sunday, launched a scathing attack on West Indies Cricket Board (WICB) which has failed to communicate with them terming the attitude as 'disappointing'.
PHOTOS: Brathwaite, Samuels win World T20 title for Windies
Sammy was emotional as he spoke about how they are yet to hear from the West Indies Cricket Board (WICB) as he made it clear that the issues with the board regarding the pay disputes are yet to be sorted.
"People were wondering we would plays this tournament, we had issues with the board, Mark Nicholas called us players with no brain. But all of us came together, these 15 men put adversity aside, play this type of cricket in front of such passionate fans. It was tremendous. I want to thank the coaching team, Phil Simmons," Sammy said at the post-match presentation ceremony.
"Really happy for this win, it's something we'll cherish for a long time. We have a few match-winners, nobody gave us a chance, every game somebody stepped up - good to see Carlos play like that in his debut World Cup," added Sammy.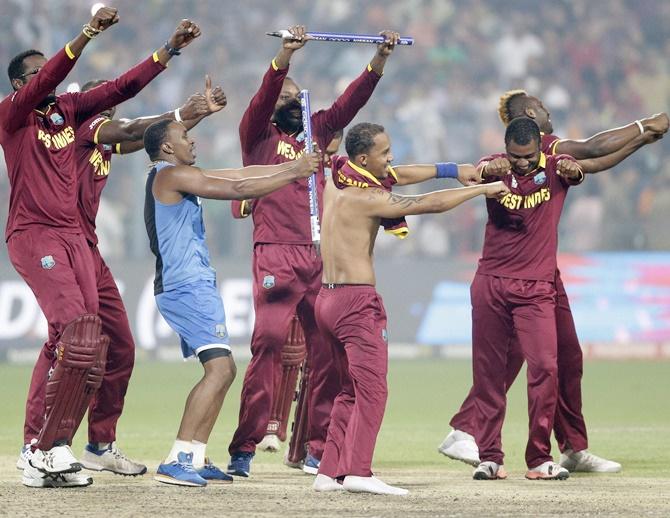 IMAGE: West Indies's players celebrate. Photograph: PTI Photos.
"We had a new manager in this tournament in Rawl Lewis. He was doing the job for the first time. He came to Dubai and we know what he did so that we get the jerseys. We did not have the jerseys. We have to give credit to the entire team here. This is for all the fans in the Caribbean. President Mitchell (Keith Mitchell, President of Grenada) send us an inspiring message."
Sammy also took a dig at the board as he is not selected in the 50-over format.
"I don't know when I'm going to be playing for West Indies again, I want to thank my team, thanks my coaching staff. This is for the CHAMPIONS," he said, referring to the Dwayne Bravo song.