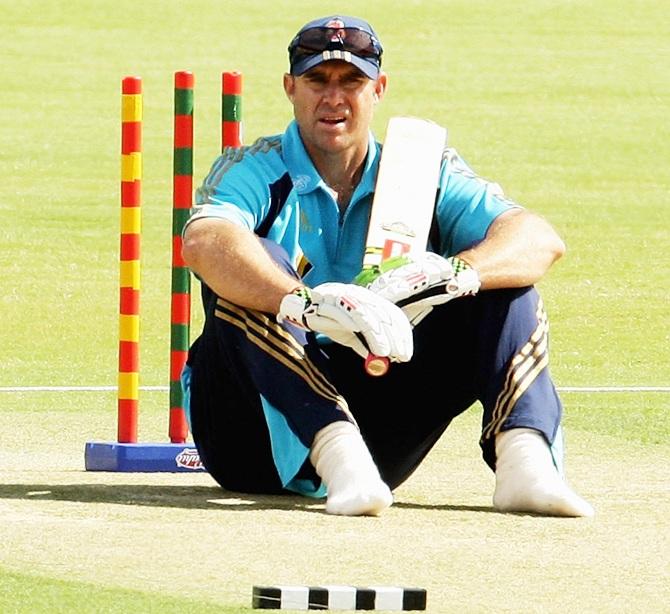 IMAGE: Australia's Matthew Hayden sits on the pitch. Photograph: Mark Dadswell/Getty Images
Former Australia opener Matthew Hayden has responded to Ravi Shastri's jibe at critics of the spin-friendly Nagpur pitch for the third Test against South Africa, saying "I deserve a voice for the betterment of cricket" after playing 103 Test matches.

India wrapped up the match at Jamtha in two and half days after bowling out South Africa for a record low 79 in their first innings, ending the Proteas' nine-year run without a defeat on foreign shores.

As many as 20 wickets fell on Day 2 at the Vidarbha Cricket Association Stadium, raising questions about the pitch.

Following Hayden and Glenn Maxwell's criticism of the pitch, India's team director Shastri hit out at the Australians.

"Let them sit in Australia and talk about their pitches. Tell them not to waste their time about Indian tracks. Come and play here," Shastri, a former India all-rounder, was quoted as saying.

Taking exception to Shastri's comments at an event here, Hayden said, "After a 103 Test matches, I deserve a voice and I will have that voice for the betterment of cricket.

"And there some terrific reactions. For example, Ravi Shastri just said the popular view 'Go back home and worry about your own pitches'."

The 44-year-old said his comments on the pitch was made on the basis of loving the sport.

"Non-Indian commenting on the conditions in India and I reckon probably 80 percent said 'mind your business and go back to Australia and worry about your own country' which is fair enough.

"But 20 percent of the people that understand the game and have a great passion for the game, a comment like mine whether they like or not is from the base of loving this sport, from the base of loving conditions and also experiencing diverse conditions across the world," Hayden said.

Australia all-rounder Glenn Maxwell had earlier described the "minefield" pitch as "diabolical" on Twitter, while Hayden was disappointed to "see the quality of Test cricket reduced to what we are witnessing".