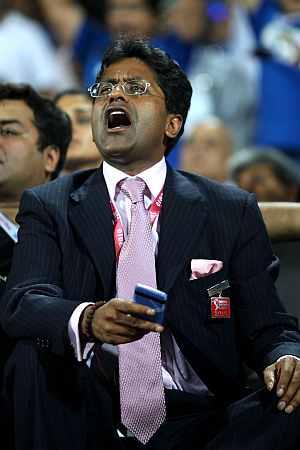 Unperturbed at the prospect of a possible life ban, a defiant Lalit Modi on Tuesday continued his tirade against Board of Control for Cricket in India president N Srinivasan and said he will not "sit back quietly" and watch the Tamil Nadu strongman "destroy" Indian cricket.

With the Delhi High Court allowing the BCCI to conduct its Special General Meeting (SGM) in Chennai on Wednesday, the decks are cleared for the Board to impose a life ban on Modi for alleged financial irregularities while being at the helm of IPL from 2008-2010.

Modi admitted that to some extent he is responsible for Srinivasan's "vices" but made it clear that he will continue his fight.

"Yes, to some extent, I am responsible for Srinivasan's vices,
but that doesn't mean I will sit back quietly and watch Srinivasan destroy Indian cricket," Modi told a television channel.
"Yes, I made mistakes but I created the biggest brand of Indian cricket.
"I will bring up issues if he does anything wrong. I have learnt from my mistakes but Srinivasan is just opposite," he said.
The former IPL chief said what bothers him most nowadays is the prospect of Srinivasan getting a one-year extension as BCCI chief at the Board's Annual General Meeting on Sunday.
"I am not disappointed at being banned because I am already suspended. I will deal with my suspension at my level. But Srinivasan getting re-elected will be a major disappointment for me and for Indian cricket fans," Modi said.
"If Indian cricket is at stake I am ready to take on my ex-colleagues," he added.