Michael Hussey scored his 15th Test hundred and his fourth against Sri Lanka to guide Australia to a first innings total of 316 on the second day of the third and final Test on Saturday.
Resuming on their overnight score of 235 for five, Australia added 81 runs in the morning with Hussey scoring 55 of them to move from 63 to 118 in an innings which lasted 178 deliveries and included 12 fours and two sixes.
Once debutant Saminda Eranga removed Brad Haddin (35) in the fifth over of the day to end a sixth-wicket stand of 75 with Hussey, the Sri Lankan bowlers wasted little time in wrapping up the innings.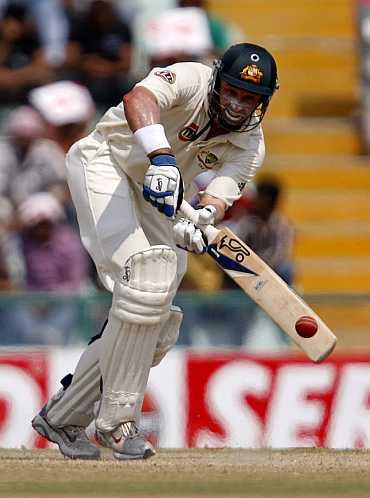 Hussey was stranded at one end as Sri Lanka chipped away at the wickets from the other.
Chanaka Welegedera, who went wicketless on day one, dismissed Mitchell Johnson (8) and Peter Siddle (0) off successive deliveries with Hussey stuck on 99 at the non-strikers end.
Hussey eventually reached his century with a single to the leg side before Eranga cleaned him up to end with figures of 4-65.
Welegedera had the final say with the ball when he picked up Trent Copeland's wicket to finish with figures of 3-75.
Sri Lanka openers Tharanga Paranavitana and Lahiru Thirimanne safely negotiated the three overs available before lunch to take the hosts to nine without loss.
Australia lead the series 1-0 after winning the first match by 125 runs in Galle before the teams played out a rain-affected draw in Pallekele.
SCOREBOARD
Australia first innings: (overnight 235-5)
 S Watson c Dilshan b Eranga 8
P Hughes b Lakmal 0
S Marsh b Herath 81
R Ponting c P Jayawardene b Lakmal 48
M Clarke c P Jayawardene b Eranga 6
M Hussey b Eranga 118
B Haddin c P Jayawardene b Eranga 35
M Johnson c Herath b Welegedera 8
P Siddle c Paranavitana b Welegedara 0
T Copeland c M Jayawardene b Welegedara 1
N Lyon not out 3
Extras: (lb-4, nb-3, w-1) 8
Total: (all out, 104.3 overs) 316
Fall of wickets: 1-0, 2-22, 3-101, 4-120, 5-190, 6-265, 7-293, 8-293, 9-295
Bowling: Welegedera 21-6-75-3,
Lakmal 21-3-60-2 (nb-3),
Eranga 23.3-6-65-4 (w-1),
Herath 27-5-78-1,
Dilshan 12-0-34-0
Sri Lanka first innings:
T Paranavitana not out 8
L Thirimanne not out 1
Extras: 0
Total: (for no wicket, 3 overs) 9
To bat:
K Sangakkara,
 M Jayawardene,
T Dilshan,
A Mathews,
P Jayawardene,
R Herath,
C Welegedara,
S Eranga,
S Lakmal
Bowling (to date): Copeland 2-0-5-0,
Siddle 1-0-4-0
Australia lead the three-match series 1-0.