'This is payback time a little bit for England after losing 4-0 in India and I don't see them letting up.'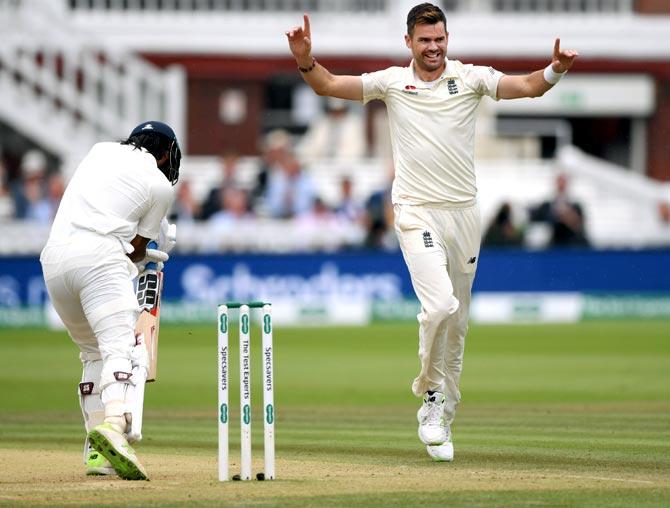 It is 'men against boys' at the moment, says former England captain Nasser Hussain, criticising the lack of fight from India in the second Test at Lord's while urging the beleaguered visitors to dig deep.

India were embarrassed by an innings and 159 runs in four days in a rain-interrupted Test at the Lord's on Sunday. They were beaten by 31 runs in the series opener in Birmingham.
"England are arguably the best in the world in these conditions but the real eye has to be on India - they have to be wary of the wheels completely falling off," Hussain told Sky Sports Cricket looking ahead to the third Test at Trent Bridge, starting on Saturday.

"India are No. 1 in the World and it was meant to be a gun, tight series but at the moment it is men against boys. Their curve is going in the wrong direction."

India have been bundled out for 162, 107 and 130 in their last three innings.

"They were in the game for a long time last Test (at Edgbaston) but the back injury to (Virat) Kohli is a concern, the fingers of (Ravichandran) Ashwin took a blow, the rest of their batting line-up continues to fail and there are no practice games in between."

Hussain warned that there will be no let-up from the English side at Trent Bridge, venue for the third Test.
"They have got to dig really deep - there are some really good cricketers in that dressing room and they have to come out fighting.

"I don't think it will be as tough as this - they can draw on the fact it's been as hard as it can be - but Trent Bridge does a bit. (James) Anderson will be a threat, (Stuart) Broad got 8-15 there against Australia - these England players have fond memories, so it won't get that much easier."

He said England will be keen to give it back after being whitewashed 4-0 in 2016.

"This is payback time a little bit for England after losing 4-0 in India and I don't see them letting up. I have seen that they are a hungry team. They won't rest on their laurels, they want to get better and better."