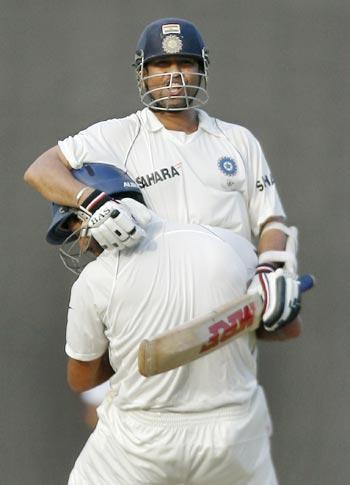 Batting maestro Sachin Tendulkar rated the century he scored in Chennai against England that helped India chase 387 runs in the fourth innings soon after the 26/11 terror attacks in Mumbai as the best of his career.
"It was not about the Test match but about something which happened two weeks before that -- something that had happened in Mumbai. It was difficult to prepare for a Test (under those circumstances).
"It was gracious of England to come here," Tendulkar, who along with wife Anjali, hosted a fund-raising dinner for the Crusade against Cancer Foundation.
"There were all sorts of talks around and then suddenly all our focus was on the match. England dominated the match for almost four days before Virendra Sehwag and Gautam Gambhir brought us back into it," he recounted.
"Generally when we win, it is the groundsmen who run to congratulate us, but on that day the groundswomen rushed to congratulate us. It was just because of something that had numbed the nation," he said.
"By no means India winning a Test match could compensate the lives lost. But for our team, we had succeeded in bringing a fraction of a smile on the faces of the people. That is why the hundred in Chennai Test match will be the best (of my career)," Tendulkar said.
He scored an unbeaten 100 as India upset all calculations to score an unlikely six-wicket victory over England while chasing a target of 387.
Tendulkar, who shared tit-bits of his life and answered questions by noted commentator Harsha Bhogale and the audience, said he had not given a thought to life after retirement as yet.
"As a child I had dreamt of playing for India and I am still living my dream. Hopefully, I am good enough to play for some more time. When I play cricket, the centre of focus should be cricket and nothing else. I may explore what I want to do when I retire from cricket. Right now I want to focus my energies on cricket," he added.
The champion cricketer, who made his international debut against Pakistan in 1989 in Karachi, revealed he did not remember the first of his over 31,000 runs in international cricket, as he was too nervous on the occasion.
"I don't remember my first run. The first match was a blur. I don't remember walking in. I was asking myself whether I belonged here. I was told by my seniors to spend sometime in the middle and luckily I could do it," he said.
Tendulkar said he did not regret quitting Twenty 20 internationals after playing just one match in this form of the game. "I made a decision in 2008 and will stick to that," he added.
He said one of the reasons why his personal life was not a material for gossip could be his simple lifestyle.
"Its perhaps to do with lifestyle. I came from a simple family. There were no major celebrations whenever I had a good performance. It was just putting sweets in front of god. That was in the childhood. It was an unwritten rule. Brother Ajit made sure it stayed that way," he added.
To a query, Tendulkar said the first page of the book he would write in the future would be about his family. "The first page has to be my family. My brother is the reason I started playing cricket. My father, mother, sisters (it is with them) that my cricket started and it will end with my children," he added.
Tendulkar thanked Dr P Jagannath of the Crusade against Cancer foundation and complimented his wife Anjali for making the crusade against cancer a success. "The kind of response we have seen is remarkable. If by donating generously one can help a cancer patient, I don't think anything is better than that," he said.
Meanwhile, Jagannath said that the overall donations received by the Crusade against Cancer foundation had crossed over Rs 1.30 crore.