Pakistan's recently axed one-day captain Shahid Afridi?announced his 'conditional' retirement from international games, as a protest against the 'humiliation' meted out to him by the Pakistani Cricket Board,
NDTV
reported on Tuesday.
"There is nothing bigger than a man's respect, and the way the board has treated me, there is a limit to everything," Afridi was quoted by Geo TV and the Jang newspaper.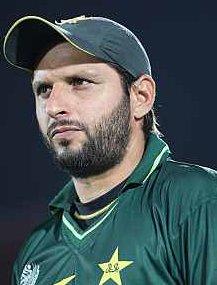 "I will not play under this board. If a different board comes in, I will definitely return but I cannot play under this board. When you have been humiliated like this, by dishonourable people, what is the point in playing on?," the report quoted Afridi as saying.

The retirement follows?Afridi's sacking as ODI captain despite Pakistan's 3-2 success against West Indies. Though the board did not give official reasons for the removal, it is?believed to be the result of growing differences Afridi had with coach Waqar Younis, in particular, over matters of selection.

'We had very solid reasons to remove Afridi and I will reveal them when the time is right.?We haven't taken this action without any reasons,' PCB chairman Ijaz Butt had said.
Image: Shahid Afridi