Opening batsman Alastair Cook was named as England's one-day captain on Thursday after Andrew Strauss opted to retire from the limited overs game to prolong his Test career, England and Wales Cricket Board said.
England all-rounder Stuart Broad has also been named as England Twenty20 captain, taking over the post from Paul Collingwood after two years at the helm.
Cook captained England's ODI team on the tour of Bangladesh in 2010, when he captained both the Test and ODI teams in Andrew Strauss' absence, and will reprise the role when England host Sri Lanka at the Oval on June 28.
"I've enjoyed my time as England One-Day captain immensely and I'm extremely proud of the strides we've made in limited overs cricket over the past two years," Strauss said.
"We still have a long way to go if we're to achieve our goal of winning ICC global events and I feel now is the right time for me to step aside and ensure someone else takes up that challenge.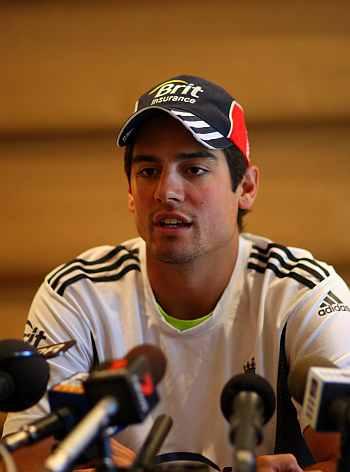 "Retiring from ODI will also enable me to focus solely on the Test captaincy and our ongoing development in the Test arena as we also strive to be the top ranked team in world cricket.
"I look forward to working closely with both Alastair and Stuart as we work together to progress England's development across all forms of the game. Both Alastair and Stuart are proven world-class cricketers and both have outstanding leadership qualities which will ensure England's success for many years to come," he added.
Meanwhile, new skipper Alastair Cook said: "Andrew Strauss has led the One-day team to continued success over the past two years and I'll be looking to continue that progress as captain. I'm excited by the challenge of taking our 50-over cricket to new heights and I believe I can play an integral role with the bat as well as captain.
"I've worked hard on my limited overs cricket in recent times - I've never seen myself as a Test batsman exclusively and I know I have a lot to offer strategically and as a top order batsman in One-day cricket.
"I will continue to work closely with Andrew Strauss and also Stuart Broad as we form a leadership team across all forms of the game. We have the chance to work together and share ideas which will benefit our cricket in all three formats," he added.
Stuart Broad will make his debut as captain when he leads England's Twenty20 side against Sri Lanka in Bristol on June 25.
Stuart Broad said: "It's a huge privilege to be named England Twenty20 captain and form part of a leadership team that I've no doubt will work well together with a great deal of synergy.
"I've always enjoyed playing the shortest form of the game and I relish the opportunity to develop my leadership skills as England's Twenty20 captain. As captain the chance to work closely with Andy Flower is an extremely exciting one and as current World Twenty20 champions I know there is a real responsibility to continue the team's recent success."