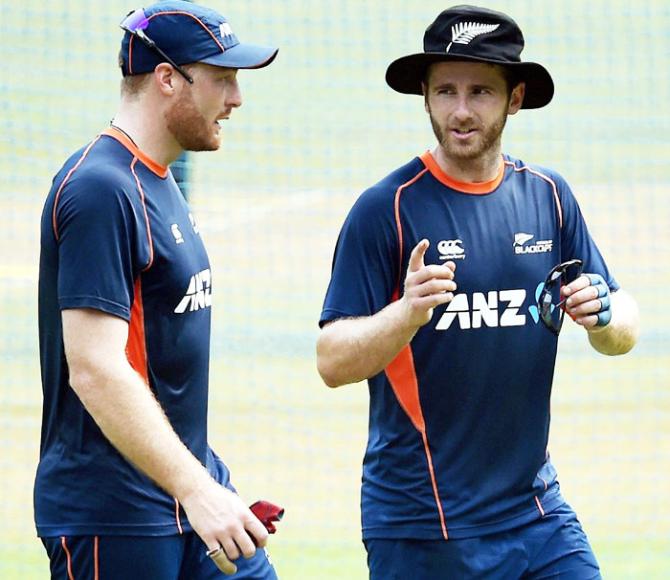 IMAGE: New Zealand's opener Martin Guptill and captain Kane Williamson chat during a practice session ahead of their first ODI against India at the Wankhede Stadium in Mumbai on Saturday. Photograph: Mitesh Bhuvad/PTI
New Zealand skipper Kane Williamson conceded that it's a huge task to beat India in their own backyard.
India start as overwhelming favourites when they take on an inconsistent New Zealand in a three-match ODI series, starting in Mumbai on Sunday.
"India's record is very good at home. They are a very hard team to beat. We know that, at home in particular, they are the strongest team in the world. There are no illusions that we need to come out and play our best cricket," said Williamson, ahead of the opening match at the Wankhede Stadium.
"We saw in the last series here that we were two-all going into the decider which was a fairly good effort although we knew that perhaps we hadn't played our best and it was a shame in that last game (in Visakhapatnam which the Kiwis lost, to lose the rubber 2-3). It will be nice to come out in this series and do a little bit better.
"Of late we have been putting some good performances on the board and we know coming here it is a very tough challenge and we have to be aware of this," he added.
India's record in bilateral ODI series at home is phenomenal, having lost just two out of 16 played since their defeat to Australia in 2009-10.
"People talk a lot about adjusting to the conditions in India, and that's is really important not just when you come to India but the specific grounds you play at; they are always a little bit different. We did that fairly well last time we were here and it would nice to do that better (this time).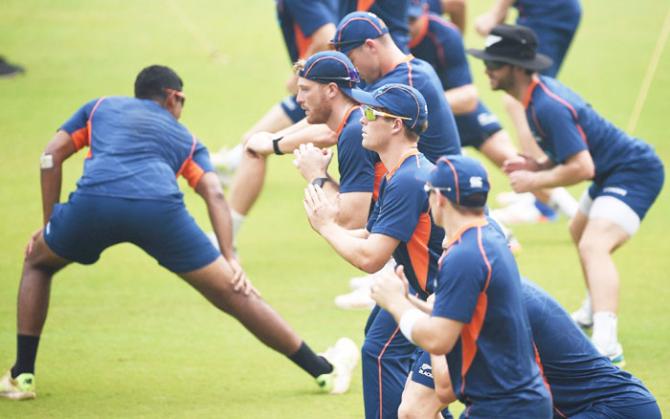 IMAGE: Kiwi players do a routine during a practice session. Photograph: PTI
"We still did not put out our best performance in that last series, which was a hard-fought series but we still were striving for that performance that we knew we could put out and, hopefully, we can show that in this series."
The Kiwis will be playing their first-ever ODI against India at the Wankhede Stadium.
"Yes, we played a couple of games in the World Cup, against other opposition, but the guys have played IPL games here; it is a nice stadium and so it is nice to get the series underway here at the Wankhede," said the 27-year-old batsman.
Williamson said Martin Guptill and Colin Munro are his team's openers and described the duo as good strikers of the ball.
"The opening batters for tomorrow are Guptill and Munro, two good ball strikers. Munro and Guptill at the top are both exciting stroke-makers and look to play their natural game which is I think is important.
"Tom Latham will bat in the middle order. He had some good time in the middle in the last couple of warm-up games and will obviously keep (wickets)."
The middle and lower order, barring himself and senior batsman Ross Taylor, is relatively new but have the advantage of touring India with their country's A team, according to the Kiwi captain.
"Yes, we have got a relatively new middle order. They certainly deserve their position. These guys were here on the A tour and experienced these conditions for a while, coming into the series, which is always good," he said.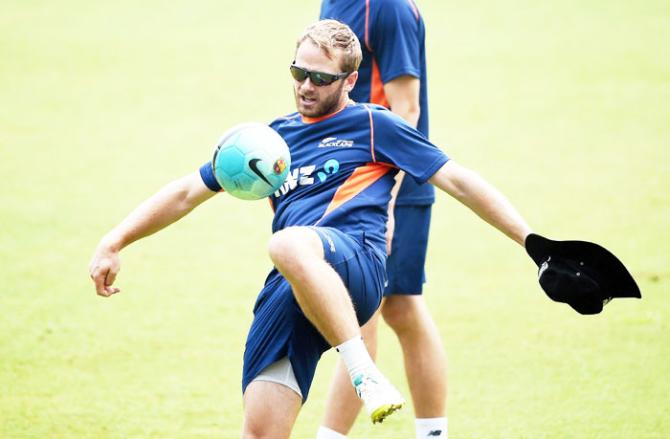 IMAGE: New Zealand captain Kane Williamson plays ball during a practice session. Photograph: Mitesh Bhuvad/PTI
The Kiwis played warm-up games at the Brabourne Stadium in Mumbai, and Williamson said they helped the side get used to the conditions.
"Yes, they were a couple of good head outs for us after a bit of a break from international cricket, so it was nice to get back together and start acclimatising as best as we can.
"The guys got through some good work. We will put our foot forward coming into the first game and play our best cricket."
He felt the track for the game is good.
"Looks like a fairly good surface. I certainly will have another look at it tomorrow. Generally, wickets here at Wankhede are good surfaces and will expect something similar," he said.
"Yeah, it is different. Sometimes, in our conditions where the ball moves off the seam, aggression is often seen as having slips and various catchers. Over here, at times, it may not be suited and it may be a bit more spin-friendly," he said about the challenge he faces while captaining in these conditions.