Two soft dismissals in one over hurt us: Sri Lanka coach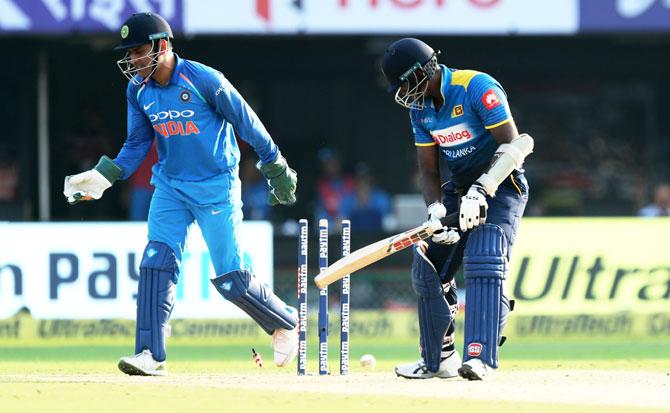 IMAGE: Angelo Mathews is bowled out by Yuzvendra Chahal. Photograph: BCCI.
Sri Lanka coach Nic Pothas, on Sunday said the two soft dismissals in the 28th over set the team back after being 'well ahead of the game' up until that point in the third and final ODI against India in Visakahpatnam on Sunday.
"Until the 28th over, we were well ahead of the game. Then there were two soft dismissals (Tharanga and Dickwella) in one over and that's what can happen. Very disappointing," said Pothas after the eight-wicket defeat.
Asked whether Lanka had faltered in choosing the combination, Pothas, who took over as coach from fellow South African Graham Ford, said the strategy was good but the loss of two wickets in one over hurt them.
"Tough one. In hindsight we can look back and pick holes in the system. We had a strategy. What we tried to do was to get as many players as possible who are good players of spin into the squad.
"If you want to play India, you want to have players who can play spin in the middle order. That strategy is sound. But unfortunately we lost two wickets in one over and that put us behind a little bit," he added.
After a rather forgettable year for the Lankans in ODIs in 2017, Pothas said the players haven not learnt fast enough.
"If I summed up our ODI cricket, I would say we didn't learn fast enough. In Tests though, it is the opposite. The guys have learned quickly and adapted.
"In ODIs, the same errors keep happening. We keep crossing the street and getting run over by the same bus over and over. So I leave that up to the selectors and the new coach. I obviously will have my suggestions to make. But if you keep making the same mistakes, you can't keep living," he said.
The Lanka coach said he was not surprised by the success enjoyed by young India batsman Shreyas Iyer, who cracked a second successive half-century and said the lad was a very exciting batsman.
"Not at all. He is a young and very exciting batsman. For India exciting to have players like that in the system. I am impressed by the way he goes about things. He has got confidence about the way he plays. He has confidence in his ability and exciting player to watch," he added.
Asked how he assessed his time as Lanka coach, he said it was a great opportunity.
"I am heading back to Southampton for Christmas. The opportunity has been amazing. From the players' point of view and my point of view, it is all about learning and getting better. There has been progress and that is exciting.
"In the same token, there have been things that haven't changed at all. What the answer to that I am not sure. Certainly exciting to have Hatu (Chandika Hathurasinghe, who will replace Pothas) on board and I will support him whatever the way I can," he added.