'He is one of the premier off-spinners in the world, but at the end of the day he is another bowler.'
Colin Munro, who hit the second fastest 50 in T20 Internationals, reveals the Kiwi plan to counter Ashwin.
Harish Kotian/Rediff.com listens in.
IMAGE: Ravichandran Ashwin in action. Photograph: BCCI
One of New Zealand's worries going into the World T20 opener against India on March 15 must be how to tackle the in-form Ravichandran Ashwin.
Ashwin has been integral to India's splendid showing leading up to the World T20 during which the Men in Blue won 10 out of their 11 T20I games in 2016.
During this period, the off-spinner took 17 wickets in 10 matches, at an extremely impressive economy rate of 5.67, in a format where even seven runs per over is considered to be the norm.
Colin Munro, who hit the second fastest half-century in T20 Internationals -- off just 14 balls against Sri Lanka in January -- reveals how New Zealand plan to counter Ashwin's threat.
"Maybe, just go out and play him like another off-spinner. He is one of the premier off-spinners in the world, but at the end of the day he is another bowler," says Munro.
"If I look at him and say 'He is the best off-spinner in the world,' it doesn't help. That is not the way I prepare. I will prepare as any other game, playing against anybody else," Munro, who is in Mumbai, adds.
The left-hander feels New Zealand's batsmen need to be clear in their minds when playing Ashwin.
"You can attack Ashwin early on or just sit back and nudge him around. He is obviously going to be their No 1 bowler in terms of playing in Nagpur, where the ball will spin a little and (Ravindra) Jadeja might come into play."
"We need to play each ball as well as we can. That means we need to play each ball on its merit. If it's in your zone, hit it and try not to be bogged down by the situation. Just go out there, express yourself and have some fun and see what happens."
"The Indian team has been playing good cricket. If I look at them as superstars or whatever, then it takes away the preparations that we need to do," Munro points out. "If we prepare well and prepare in the way we have been doing in the last two or three years, and if we play to our full potential -- we have big players too -- we can beat anyone on our day."
New Zealand play two warm-up games in Mumbai, ahead of their first match against India, which Munro believes will be key in terms of identifying their combination for Indian conditions.
"If we play well in the two warm-up games and get a bit of momentum leading into the opening game against India in Nagpur, then there is every opportunity for us to get over the line," he says.
"If we can get the combination right it will go a long way for us to have a lot more confidence going into Nagpur."
Looking back at his whirlwind innings of 50 not out off 14 balls in the second T20I against Sri Lanka in January, he says aggression drives his batting.
"Watching Martin Guptill and Kane Williamson bat at the start, going out there I had nothing to lose if I got out first ball. Chasing a low target it didn't really matter," he recalls.
"To hit those sixes, to bat those 14 balls, looking back, it's sort of a blur. It was just taking the aggressive approach and trying to get the game over and done as soon as possible."
"I like to be aggressive. I would love to do that every day of the week, but you know cricket has got so many variables -- the wickets, the boundary sizes and other things."
"Yeah, I like to be aggressive and hit the ball hard."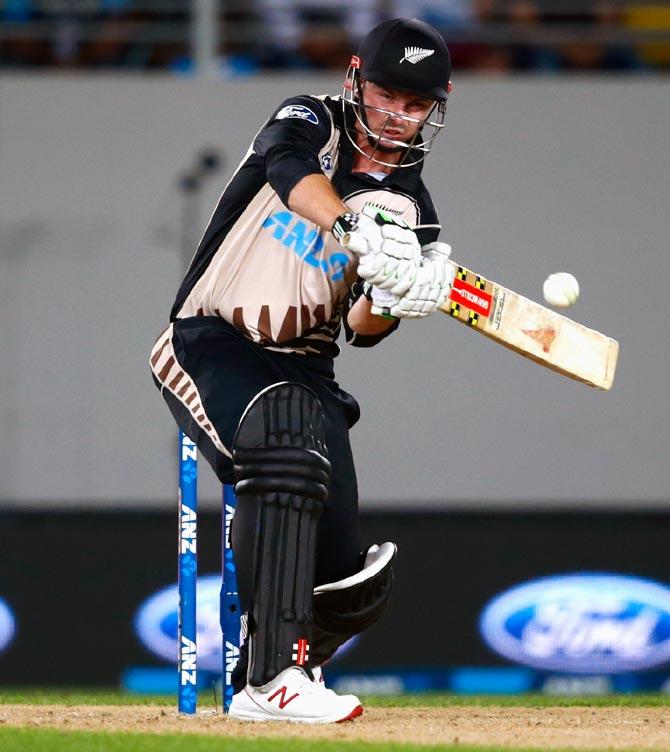 IMAGE: Colin Munro hits out. Photograph: Phil Walter/Getty Images
The Durban, South Africa-born Munro's batting hero is interestingly not Kiwi dasher Brendon McCullum, but former South African all-rounder Lance 'Zulu' Klusener, renowned for his attacking batting.
"I have always loved to hit the ball hard, always loved to hit fours and sixes. It was probably watching Lance Klusener during that World Cup (in 1999). Growing up in South Africa you know he was our hero. If I came out to bat I wanted to hit the ball like him. I wanted to be like Lance Klusener... my legs wide apart, a sort of wide base I can hit from."
"Obviously, Klusener has been the biggest influence in terms of who I wanted to be."
Munro has been touted as a likely replacement for McCullum in New Zealand's limited overs line-up, which he feels is far-fetched considering the huge impact the former Kiwi captain has had on the team.
"Filling Brendon's shoes or filling him as a player, I think you are never going to do that because he is the world's best T20 player," says Munro. "I have been lucky to play with him in the last three years. His training and how he does different things against different bowlers on different surfaces, I have grown a lot as a cricketer under Brendon."
Munro's 14-ball 50 is the second fastest in Twenty20 Internationals, behind Yuvraj Singh's 12-ball 50 against England in Durban in 2007.
Asked if he believes it is possible to break Yuvraj's record, he quips, "I don't know about me, but anyone can. It is only about hitting 10 sixes!"