'Completing hundred with a six was special to me.'
'We are looking to put up a good total. It may turn a bit more from day two.'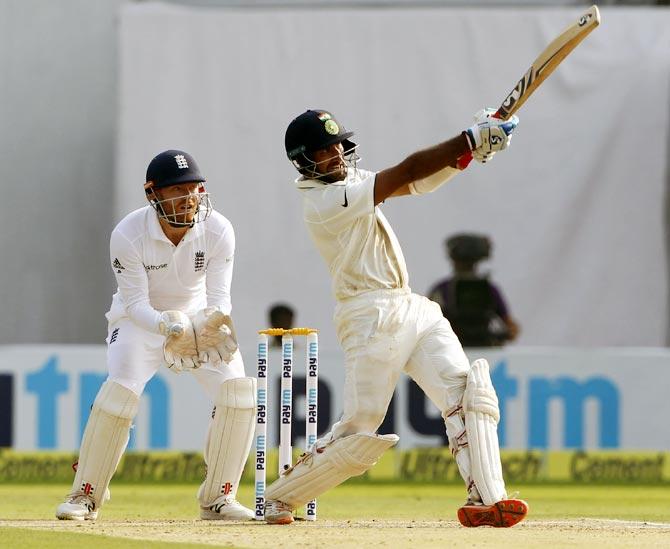 IMAGE: Cheteshwar Pujara hits a century to complete his century. Photograph: BCCI
Cheteshwar Pujara, who is in the form of his life, says he has not made any change in his technique but the intent has surely changed on the advice of head coach Anil Kumble.

The Indian number three had drawn flak for his slow approach during the Caribbean tour but has bounced back on his return, posting three back-to-back centuries and three fifties from five Tests.

"I have not changed much as far as technique is concerned. It's just the intent. The way I started off against New Zealand I was just missing out on 100s. I spoke to Anil bhai and he told me 'there's nothing wrong in the way I am batting. Probably the area which I can improve is the 'intent' and that is what I worked on," Pujara said.

Pujara scored 119, putting on 226 runs for the third wicket with skipper Virat Kohli (151 not out) as India posted 317 for four on Day 1 of the second Test against England in Visakhapatnam on Thursday.

"Completing hundred with a six was special to me. As I started well in the first Test and getting a century at home was special to me. I just wanted to continue my form and wanted to capitalise. Myself and Virat wanted to build a partnership and it's a crucial one for the team."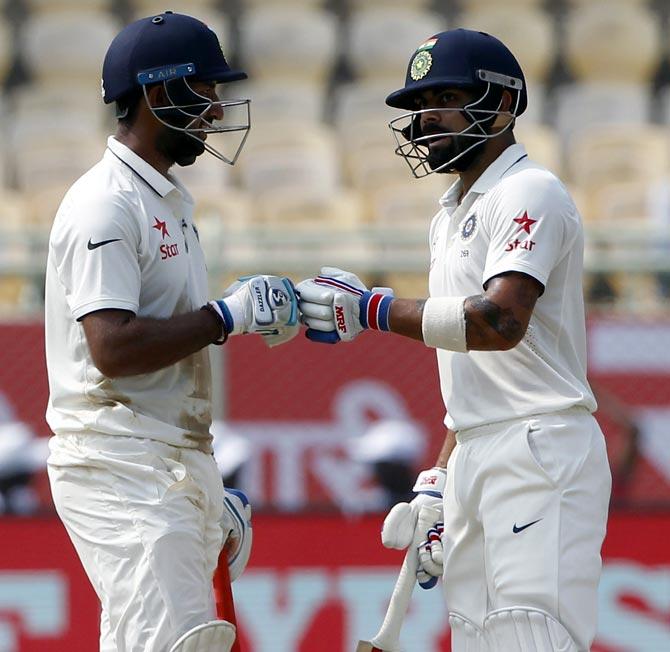 IMAGE: Cheteshwar Pujara, left, with Virat Kohli. Photograph: BCCI
He adopted a positive approach to keep the runs, including two sixes enrote to his 11th Test century while Kohli was seen batting in a sedate manner and did not take hit a single six.

"There was one error where he did not control the pull shot well. The way he was batting and judging the bounce we felt if we could continue rotating the strike it would become easy as we both of us were in control."

Showering praise on the skipper, he said: "He (Virat) likes to play his shots. I always enjoy batting with him. He likes to dominate. We just wanted to capitalise on the situation. I enjoyed batting with him."

Pujara survived a couple of run out scares when batting with Kohli but asserted that there is no "communication gap".

"We just didn't judge the singles well especially in the first session. We had a chat in the lunch break. If you see in the second session the way we were running was much much better. We had a chat during lunch time and things were better."
IMAGE: Cheteshwar Pujara offers no shot to a delivery from James Anderson. Photograph: BCCI
The key to building a partnership is understanding the situation and not the batting partner at the other end, Pujara said.

"I've played with all of the cricketers right from junior level. I know most of the guys really well. It's about understanding the situation not the partners."

Asked about the assessment of his pitch, Pujara said, "Day one is always good for batting in India. I don't know how it will shape tomorrow. We are looking to put up a good total. It may turn a bit more from day two."