'Dhoni's skills are unbelievable, also his mindset, the way he thinks about the game.'
'I would says Dhoni is the smartest guy on the cricketing field.'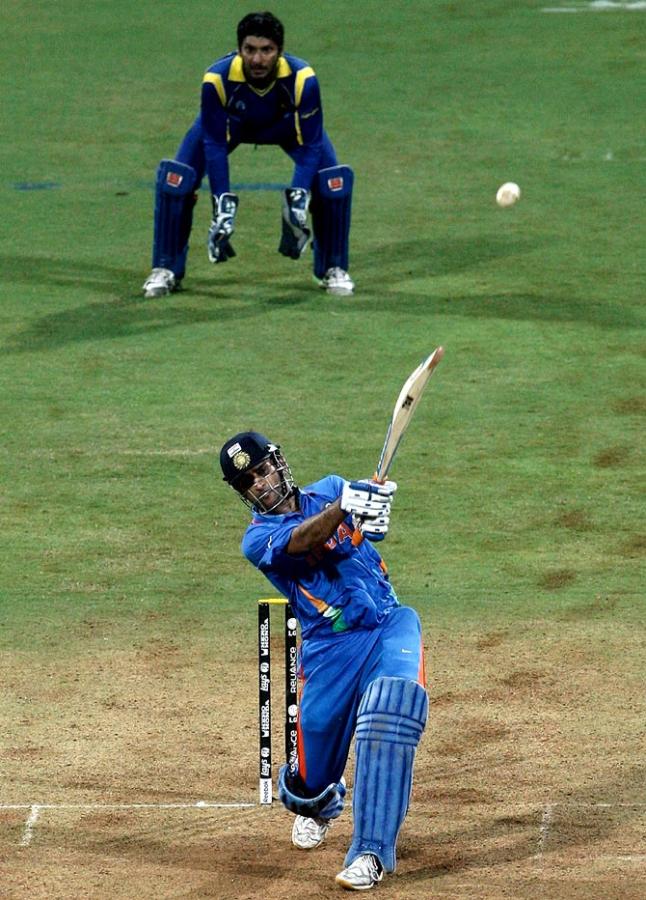 IMAGE: Mahendra Singh Dhoni hits a six to take India to victory against Sri Lanka in the 2011 World Cup final in Mumbai. Photograph: Graham Crouch/Getty Images
A small town boy from Ranchi making it all the way to the Indian team is a fairytale story in itself. But Mahendra Singh Dhoni went to achieve bigger things, as a splendid wicketkeeper, a marvelous batsman and as Captain Cool, the most successful skipper in India's cricketing history.

Very early in his career, he led India to winning the inaugural T20 World Cup in 2007 before his match-winning six at the Wankhede Stadium saw him lead India to its second 50-overs World Cup title.

Under Dhoni's leadership the Test team scaled the No 1 peak and became an invincible force at home.

Now, Dhoni has a movie made on his life and career.

>Ahead of MS Dhoni: The Untold Story's release, Rediff.com's Harish Kotian spoke to the man who discovered Dhoni.
Former India wicket-keeper Kiran More -- the chairman of the selectors when Dhoni was first selected for the Indian team in 2004 -- reveals what made him select the Jharkhand wicket-keeper for the Indian team and his rapid rise in international cricket.

Interestingly, More also supervised Sushant Singh Rajput -- who plays Dhoni in MS Dhoni: The Untold Story as the actor improved his cricketing skills.
When did you first spot Dhoni and what made you believe in his abilities?

I first saw him in the Duleep Trophy final between East Zone and North Zone (in March 2004 in Chandigarh).
In that match we had a first look at him, he kept wickets and he batted well. We selected him for the India 'A' team for the twin tours of Kenya and Zimbabwe.

We had got a report somewhere in 2003 that there is wicket-keeper-batsman from Jharkhand, who is quite good.
We had seen his batting before, but we wanted to see his wicket-keeping so that's how he kept wickets in that final.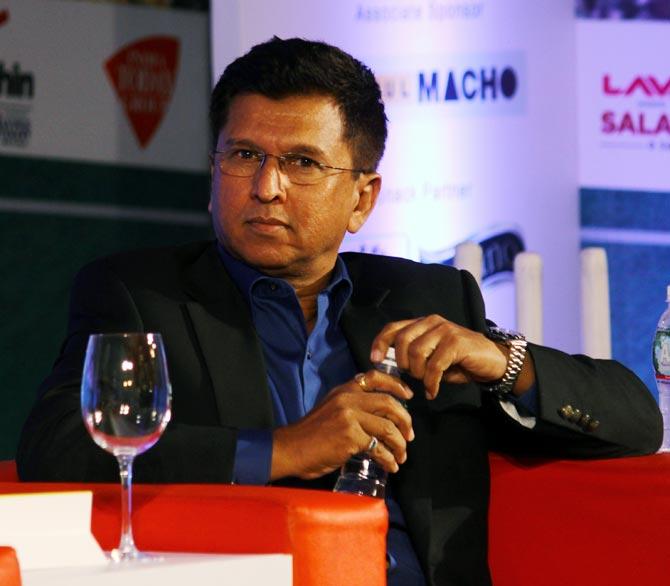 IMAGE: Former India wicket-keeper and chief selector Kiran More. Photograph: Hitesh Harisinghani/Rediff.com
Did you ever image that Dhoni would end up as India's most successful captain across all formats?

When you pick any player to represent India for the first time, you cannot predict if he will end up as the India captain or how his career will span out.

We knew he is very talented, but after seeing his performances in a few matches, we knew he will do well at the international level.

When Virat Kohli came into the Indian team, at the start he struggled, but he played well also, and then you can predict that he will be a star player and he can be the captain in the future.

What has been key to Dhoni's success, as a batsman and a captain?

Dhoni's skills are unbelievable, also his mindset, the way he thinks about the game.
No matter how talented you are, if you don't use your brains, I don't think you will be able to perform.

He rises up to any challenge at the right time and that is very important.

I would says Dhoni is the smartest guy on the cricketing field.

He also worked hard on his game, his batting and wicket-keeping because he was aware nothing comes easily in this game.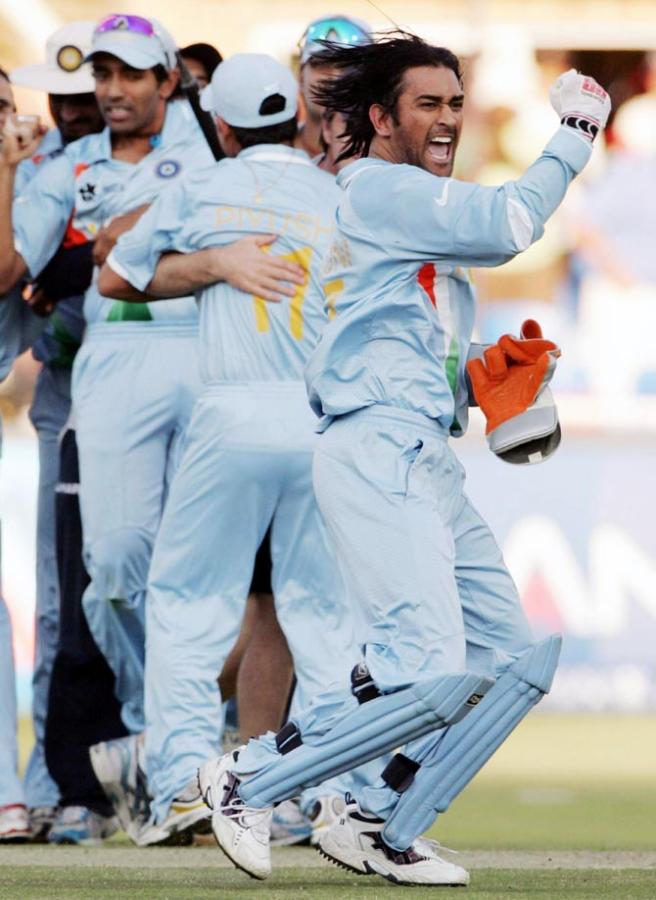 IMAGE: Dhoni, right, celebrates after India beat Pakistan to win the inaugural ICC Twenty20 World Cup in 2007. Photograph: Duif du Toit/Gallo Images/Getty Images
As a wicket-keeper, his technique was different. How did he become so successful with the gloves?

He has taken nearly 700 dismissals at the international level. Do I need to say more? He was outstanding as a wicket-keeper, one of the best India has had.

I respect every wicket-keeper's technique, every individual has his own style.
He realised very early in his career that being a wicket-keeper is very important for him to get into the Indian team. At that point of time we were looking for a wicket-keeper-batsman.

He was always dangerous with the bat, but his wicket-keeping skills improved immensely.
He was not the best of wicket-keepers when he started, but he improved so much once he got into the Indian team and that is how he played in all formats of the game and for so long.

There is no fixed technique. Dhoni has taken catches, stumpings and run outs, what more could he have done?

He has his own style, his own technique just like in batting Virat Kohli's batting style is different from Sachin Tendulkar's, but both are very good batsmen.

Dhoni oversaw a transition in Indian cricket when greats like Sourav Ganguly, Rahul Dravid, V V S Laxman, Virender Sehwag and Sachin Tendulkar exited from the side.
Did you think he handled that change well?

He handled it very well. When he took over the captaincy, there were quite a few senior players, including 4, 5 former captains playing under him, and he handled them quite well.

He was a very good leader and he made the Indian team one of the top teams in the world.

At the start of his captaincy he won the World T20. He also won the 2011 50-overs World Cup at home and under him the Indian team did well in Test matches too. So he has achieved everything possible he could as a captain.

Were you surprised when he suddenly decided to quit Test cricket?

Not really. Dhoni is always known to give surprises. It was a personal decision and he is the best judge of his game and body.

Of course, he is still fit and could play Test matches even now if he wanted to. But sometimes, you have to take a call.

He came into the Indian team more as a limited overs specialist, but ended up playing 90 Tests and most of them as captain. So that was a great achievement.

Does Dhoni have it in him to play the 2019 World Cup?

I don't know whether he can play or not. It is again an individual call and Dhoni is the best judge to take a call on whether he can play the 2019 World Cup or not.

His fitness is outstanding, even today he is the quickest runner between the wickets and one of the best hard-hitters in cricket.

The tagline of the Dhoni movie says 'The Untold Story.' What is the one untold story about Dhoni you would like to share with us?

Dhoni was a surprise package. He came into the Indian team relatively unknown and his career kept growing at a rapid rate. Within a year-and-a-half he was the Indian captain.

It was really unexpected that someone coming from Jharkhand would lead the Indian team. The way he has conducted himself over the years, not only as a cricketer but also a captain, it has been great and also a learning experience for future players.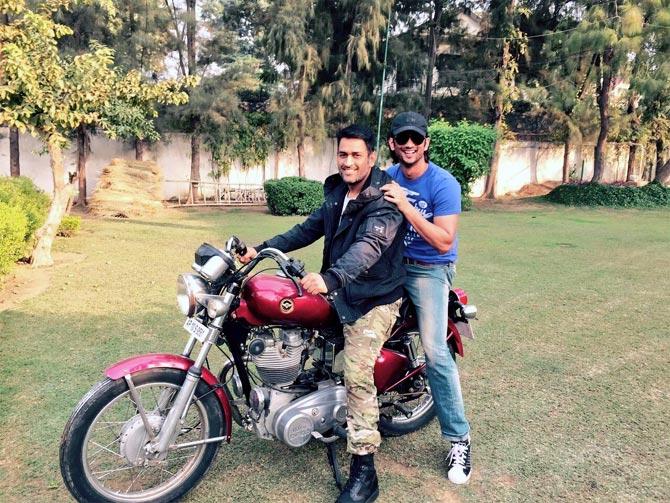 IMAGE: Dhoni, left, with Sushant Singh Rajput. Photograph: Kind courtesy Sushant Singh Rajput/Twitter
You helped Sushant Singh Rajput prepare for the role. Will you also be seen on screen?

My only role associated with the movie was to coach the lead actor Sushant Singh Rajput and that was a challenge for me.

We worked for nearly 8 to 9 months on his batting and wicket-keeping so he could resemble Dhoni on screen.

I had to build him up slowly on the basics of cricket, on how to go about batting and how to play the shots.
Once he got the confidence and strength and started to pick up where the ball was pitching, we started working on the Helicopter shot.

Teaching Sushant the skills of wicket-keeping was tougher than batting. To make someone a wicket-keeper is not easy, it has to be natural. That was the difficult part, to teach him the basics of wicket-keeping.

Even Sachin Tendulkar was impressed when he saw one of our batting sessions.

Is Sushant good enough to play the IPL?

Sushant has become a good enough cricketer who can play some top class cricket, but the IPL is on a different level altogether, it is for professional cricketers.