I started bowling off spin only after seeing the 2001 series (Australia's tour of India): Ashwin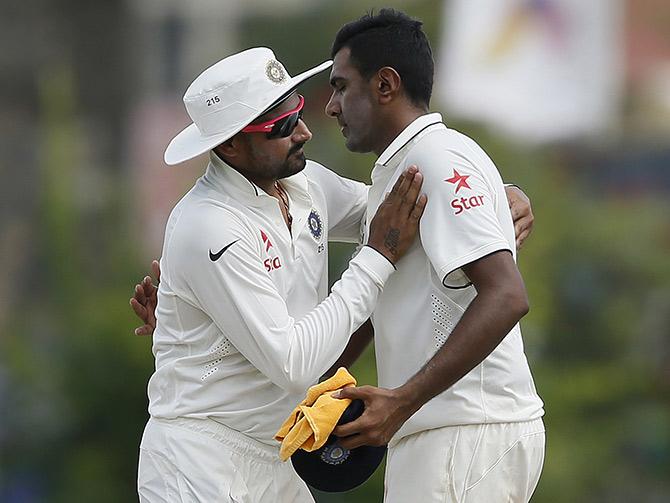 IMAGE: Harbhajan Singh, left, congratulates Ravichandran Ashwin. Photograph: Dinuka Liyanawatte/Reuters
Putting an end to all controversy about a possible feud between him and veteran Harbhajan Singh, India's spin sensation Ravichandran Ashwin claimed the former India spinner was the reason he took up off-spin bowling.
"Harbhajan has been an inspiration and I started bowling off spin only after seeing the 2001 series. This banter going on is unhealthy," Ashwin tweeted on Monday.
"By pitting players against each other we aren't going to gain anything but just a juicy headline. Let's respect people and keep the game healthy," he further added.
Harbhajan was quick to acknowledge the tweet, claiming his words were 'misconstrued'.
"Dear got nothing against you. For some reasons my words are misconstrued. Wish you nothing but the best Keep the flag high! God bless," he said in his reply.
Harbhajan's recent tweet about 'spin-friendly' pitches in India triggered a mini controversy with many perceiving the senior spinner was taking a dig at Ashwin following his successful run at home in recent years.
"Kumble and my test wicket count would have been something else if we got wickets like last 4 years we playing on," Bhajji had tweeted earlier.
The off-spinner, who is ranked No.1 bowler in Tests, claimed 27 wickets in the recently-concluded three-Test series against New Zealand and was named the man of the series.
He is the second-quickest bowler in the history of Test cricket to take 200 wickets, behind only Australia's leg-spinner Clarrie Grimmett, after he achieved the feat in only 37 wickets during the New Zealand series.