Amidst tributes for James Anderson, two voices have stood out to show things as they are.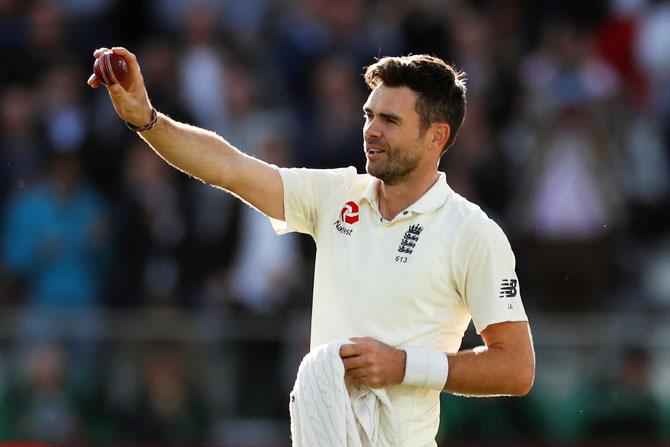 IMAGE: England's James Anderson celebrates the wicket of West Indies' Kraigg Brathwaite and his 500th test wicket on Day 2 of the 3rd and final Test on Friday. Photograph: Andrew Boyers/Action Images via Reuters
England's James Anderson became only the sixed bowler and third paceman in the history of the game to pick 500 Test wickets when he rattled the middle stump of West Indies batsman Kraigg Brathwaite on Day 2 of the third and final Test at Lord's on Friday.
Tributes poured in for Anderson, with former team mate Graeme Swann describing him as "a phenomenal talent".
"He was also born to bowl," Swann said.
"He likes his records and milestones and is aware of his numbers at each ground, but his main drive is simply to take wickets."
Former England skipper Nasser Hussain added: "He's been a credit to his country and when he gets that ball in his hand there aren't many bowlers better than him."
Alec Stewart, another former England skipper, said: "We are talking about James Anderson, a world great. He is up there with McGrath, (Curtly) Ambrose, Walsh..."
But putting Anderson's achievement into perspective was former West Indies paceman Michael Holding.
Anderson's 501 wickets have come at an average of 27.7 with 330 wickets coming at home compared to 171 on foreign soil.
Holding said was the only statistic that counted against Anderson.
"He's done exceptionally well in England, but he hasn't done so well away from home," Holding told Reuters.
"He uses the conditions here beautifully. He's in the list of all-time English greats with the volume of wickets but there are others who I would still rank higher."
Cricket columnist Gary Naylor was also realistic in his opinion about Anderson.
"James Anderson is very good, but nowhere near Waqar, Wasim, Mohammad Asif and Malcolm Marshall as a consistent swinger. Nor early Botham," he tweeted.
The three leaders on the all-time list are Sri Lanka's Muttiah Muralitharan (800), Australian leg spinner Shane Warne (708) and Indian leg spinner Anil Kumble (619).