Pakistan cricket captain Misbah-ul-Haq continues to rue the fact that he hasn't been able to captain his side in a Test in Pakistan.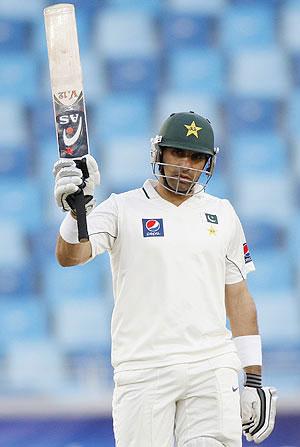 No team has been willing to tour Pakistan after the bizarre 2009 terrorist attack on the Sri Lankan cricket team in Lahore.
Ever since he was made the captain in late 2011, Misbah has captained the side in 26 Tests, all of them on foreign soil. He has won 11 of these Tests and lost seven.
Misbah told the Dawn that apart from players like Younis Khan, Mohammad Hafeez and himself, most of the players in the side, who are new, have no idea what it means to play international cricket at home.
Though he is Pakistan's leading run-scorer, Misbah has also managed to attract critics. A majority of them believe he is too defensive as a captain, and that he goes into a shell too often while batting.
But interestingly, his record as a captain and batsman in the last three years actually contradicts such criticism.
He says that he doesn't mind constructive criticism, but cautions that such criticism should remain with the boundaries of the ethics and values.
Since the 2007 retirement of Inzamam-ul-Haq, the Pakistan Cricket Board (PCB) has appointed five captains before settling for Misbah. Those who preceded him are Shoaib Malik, Younis Khan, Shahid Afridi and Salman Butt.