Atal Bihari Vajpayee asked the players to win hearts too apart from matches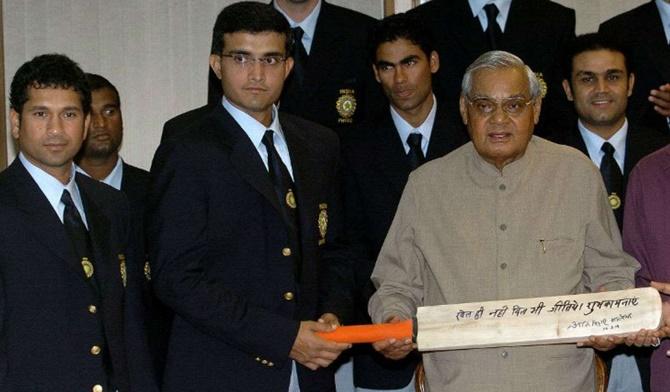 The ice-breaking tour of Pakistan by the Indian cricket team led by Sourav Ganguly in 2004 was possible only because of the efforts of the then prime minister Atal Bihari Vajpayee, who asked the players to win hearts too apart from matches, recalls former team manager Ratnakar Shetty.
The Indian team toured Pakistan after 19 years and had stalwarts like Sachin Tendulkar, Rahul Dravid, VVS Laxman, Anil Kumble and Virendra Sehwag.
Shetty, the then team manager, remembers the meeting the team had with Vajpayee prior to their departure.
"The tour happened just because of Vajpayee ji. He wanted relations to improve and cricket was a mode of doing that. The BCCI decided to sent the team after the approval of his government," Shetty said.
"Before we were to leave for Pakistan, we got a message from the PMO that the prime minister wants to meet the team. He spent an hour with the team and spoke to each and every member," he said.
"There was a navy band in the garden which was playing patriotic songs. We presented him an autographed bat and he too gave us a bat with which had a message: 'Khel hi nahi, dil bhi jeetiye, shubhkaamnaye (win hearts too besides matches, best wishes)," Shetty recalled.
He said that Vajpayee told Saurav it was an important tour and the team members should play their hearts out.
"When we were about to leave, he said that we should listen to one more song - 'Hum honge kaamyaab'," Shetty said.
He also said that after India won the ODI series, Vajpayee called Sourav to congratulate him.
"I had gone on a security visit to Pakistan prior to the tour. I saw people in Karachi holding Vajpayee's pictures and posters thanking him for revival of cricket between the two countries. I told him that," Shetty said.
Indian team won the Test series 2-1 and ODIs 3-2. Virender Sehwag earned the nickname 'Multan ka Sultan' after scoring 309 in first Test in Multan.