We will bounce back strongly in ODIs against SA: Iyer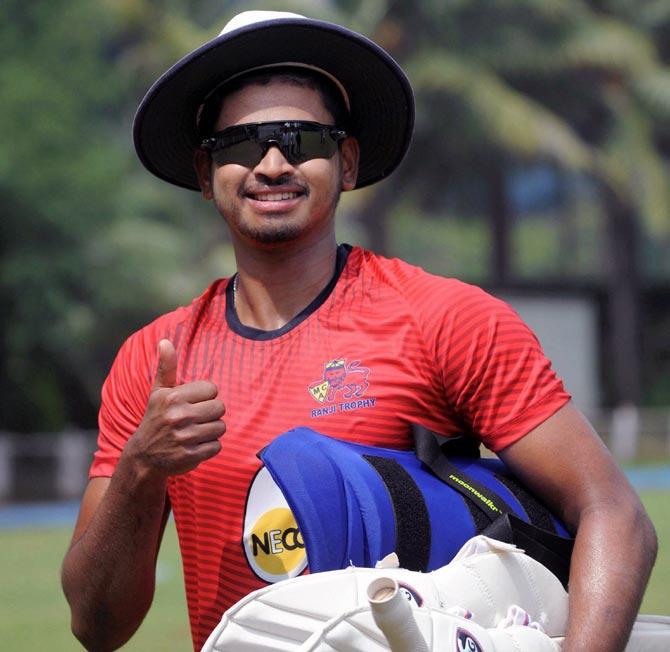 IMAGE: Shreyas Iyer after a training session in Mumbai. Photograph: PTI
ed after their Test series defeat, India will bounce back strongly in the ODI series in South Africa, top-order batsman Shreyas Iyer said in Kolkata on Monday.
Indian batsmen surrendered meekly to lose the first two Tests in the ongoing series and will play the third Test from January 24, before locking horns in a three-match ODI series beginning February 1.
"We will also look to come back strongly. We have not won the Test series so will look to bounce back strongly," Iyer said.
The return of former skipper MS Dhoni will also bolster the side.
"MS is coming back. He has led the Indian team previously. He's a great finisher, looking forward to the ODI series. We would look to win the ODI series. That would be my target."
Having recovered from a hamstring injury, Iyer will join the team for the ODI series as he showed signs of full fitness with a sterling 79 not out to lead Mumbai to 198/4 before going down to Punjab by three wickets in their Syed Mushtaq Ali Trophy T20 fixture.
"Prior to South Africa tour, getting a knock like this is important. It will give me a lot of confidence. I will see to it if I can carry the same form in South Africa," he said.
Iyer has done his homework for the seaming and bouncy conditions in South Africa.
"Since I was injured after the Sri Lanka tour, I was watching the matches and they have bouncy and seaming pitches.
"My preparation would be to play the ball on merit and to be on backfoot more rather than playing on front foot."
"In India the ball does not climb so much as compared to South African wickets. To stay as much positive as possible and progress in my innings."
"After going there I will set a goal for myself and see to it that I achieve that goal," he concluded.
Playing full Mushtaq Ali will help me in South Africa: Kuldeep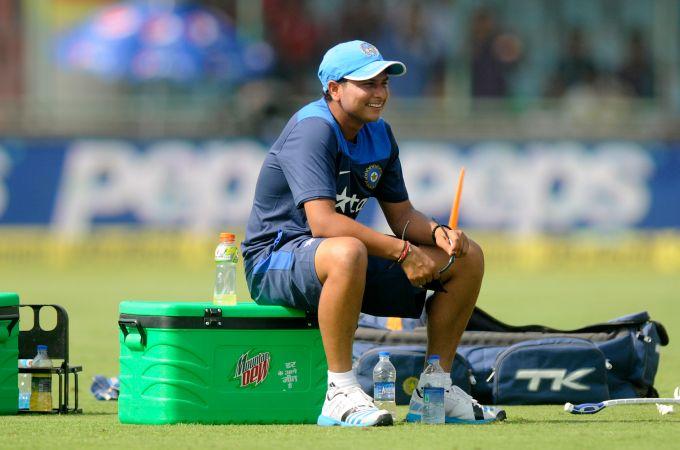 IMAGE: Kuldeep Yadav. Photograph: BCCI
Chinaman Kuldeep Yadav said playing the full Syed Mushtaq Ali T20 Trophy will hold him in good stead in the limited overs series in South Africa.
Kuldeep, who will leave for South Africa on January 24 for the ODI series, said he expects to reap the harvest of a good domestic season in South Africa.
"So far it has been good. I have played the full T20 season (Syed Mushtaq Ali). My rhythm is good so hopefully I will be able to continue bowling well there (in South Africa) as well," a confident Kuldeep said.
Asked how important is Mushtaq Ali Trophy for him, the 23-year-old unorthodox bowler said: "Every game here is important as an individual and as a team. The team needs you and it is a matter of pride to play for the state always. The state has given you everything so I came to play."
"It also gives you good match practice as you get to play against big players," he added.
Kuldeep said he always looks to take wickets and is not afraid of leaking runs.
"You will leak runs in T20 cricket. T20 is all about how many wickets you take. Wickets help the team in this format."
"When there is a score of 230 plus on the board, you know the opposition will go for runs. I always look to take wickets and not restrict runs. If I look to restrict runs, I can endup conceding more maybe," he said.
Looking lean, Kuldeep said it's all about staying fit to live up to the demands of the side led by Virat Kohli.
"When you are playing for India you have to be fit. Also if you want to survive for a long time, fitness is very important. I have been working a lot on my fitness for the last two years," he said.
Kuldeep, who came into the reckoning with his impressive performances for Kolkata Knight Riders (KKR) in IPL, did not hide his desire to play for the franchise again.