'We are covering all bases because if you want to be a champion side, you don't want to give the opposition any window to get into the game'
'We believe, we certainly have what it takes to be the best in the world. One area where we have tapped into is belief'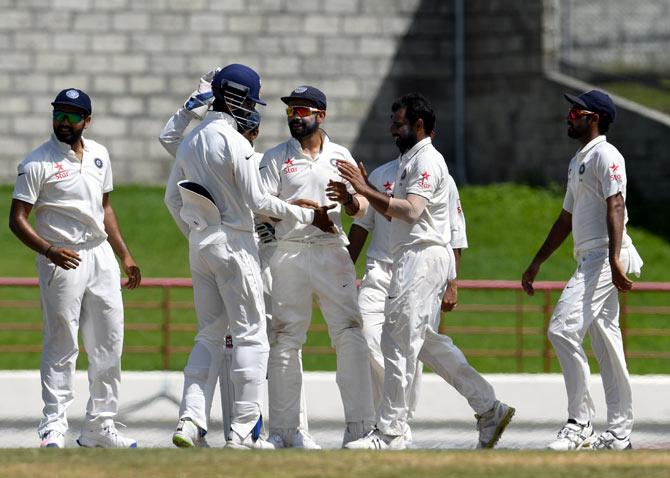 IMAGE: India's players celebrate. Photograph: WICB Media
Captain Virat Kohli is not overtly worried about the Indian Test team's recent struggle against spinners, saying that they are working on this aspect.
Last year, during the Galle Test, Sri Lankan spinner Rangan Herath wreaked havoc as India struggled to chase 176 and were all out for 112. Herath had taken seven wickets in the second innings to spell doom for the visitors.
That performance evoked criticism, questioning the Indian team's age-old ability to dominate spinners.
The GreenPark pitch for the series-opening Test against New Zealand will assist spinners, but Kohli does not see any issues with that.
"I think it's not a concern," he said categorically but acknowledged that "It is an area where we can improve."
"(In the Galle Test) we did not execute our batting plans, but we rectified that. The team wants to improve on that aspect of the game, something we surely need to get strong. So much was built up (in the media). We countered conditions really well away from home -- England, New Zealand, Australia, South Africa. We focused on pace, so we didn't pay that much attention on spin. That was one area where we feel that we could have worked or should have worked more.
"Now we are putting in more efforts to bat against the spinners longer. We are practicing the small little things. We are covering all bases because if you want to be a champion side, you don't want to give the opposition any window to get into the game, and that's an area that needs to be worked on through the course of this season. Good thing is that we are playing a lot of Test cricket," he said.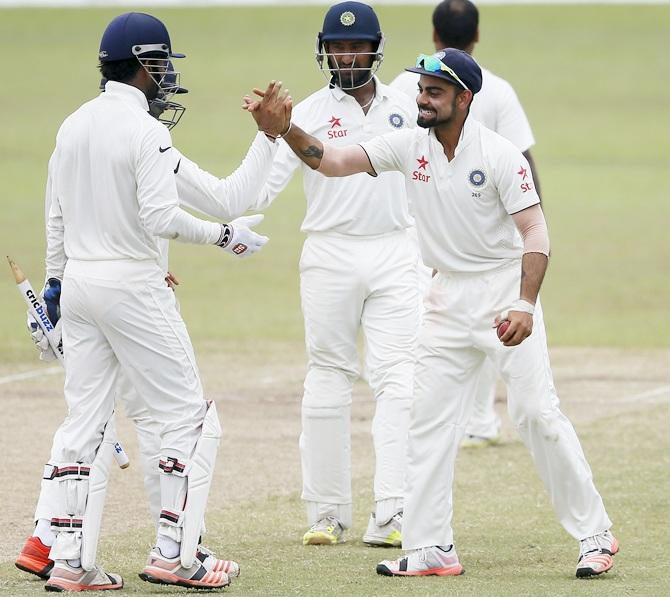 IMAGE: Virat Kohli celebrates a wicket. Photograph: Dinuka Liyanawatte/Reuters
Kohli said the current side has all the ingredients to be a dominant world force.
"We believe, we certainly have what it takes to be the best in the world. One area where we have tapped into is belief. Lot of young players coming into (the squad) can lack belief, there could be a lot of insecurities, whether I'll play in the next game or whether my position is settled or not. So, it's all about getting rid of all those feelings.
"When you step into the pitch, you need to tell yourself that I own this position for next 10 years for India in Tests, that's how you can be confident and stress-free. That's how you can express yourself and that's what this team has been able to do. You want to play bold cricket, take risks," said Kohli.
"If you are fearless, the results will fall your way because you are willing to take that extra risk in the course of the game. I certainly feel that this team has what it takes to be the best in the world. What it requires is sustained concentration, attention to details, practicing the same way everyday, doing boring things," said Kohli.
IMAGE: Kane Williamson of New Zealand bats during a nets session. Photograph: Gareth Copley/Getty Images
The Indian captain also said that the hosts are not discounting New Zealand's challenge.
"We expect very good competition and hard fought cricket. They are a side that does not give up. They have pretty skillful players in their ranks, we are wary of that. But we are aware of our strengths as well. Both need to focus on their strengths and don't hand the advantage to other teams.
"They are a pretty good side, they play good positive cricket. We have seen in the last couple of years. Driven initially by Brendon McCullum, he got those ideas into the team. Play fearless cricket, that's one thing which stood out for me in their mentality. Their mentality was cricket was not the end of the world for them, they just enjoyed the game.
"That, I think, is a very difficult thing to go and execute on the pitch. You might say those things away from the field, but when you are in the ground, in the heat of the moment, your emotions and insecurity do take over. I think, they have been able to detach themselves from those pressures and that's why they have got successful in last couple of years. I think Kane (Williamson) is leading the side very well," the Indian captain said.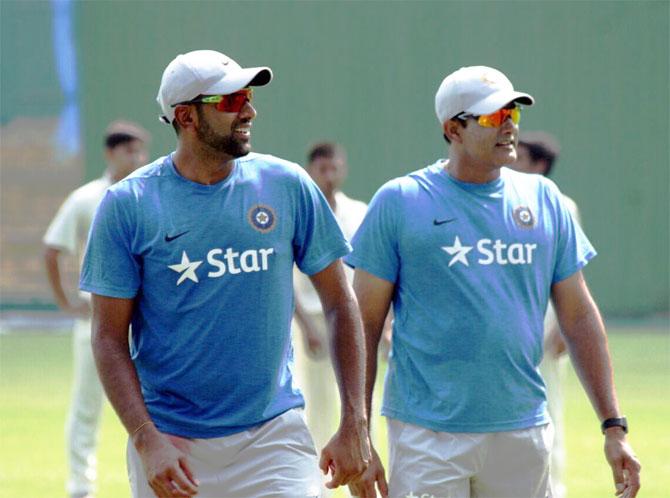 IMAGE: India spinner R Ashwin and coach Anil Kumble at a team training session. Photograph: BCCI/Twitter
Kohli also said the current season, in which the team is set to play 13 Tests, could lay a solid foundation for their ascension.
"This season is a phase where we can lay the foundation where the Indian Test team will go. We have started off pretty well. The challenge in the last one year or so has been to show composure and get the victories that we require, and we have been able to get that.
"Of course, this season will be a career-defining for all those in this squad, because hardly we have played 17 Test matches regularly. That's one thing that we are happy about, that we can plan our Test cricket, and test ourselves and get those wins whenever the chance comes. Very exciting times ahead."
Kohli also felt that players have stepped in the past to replace injured players and somebody will do well in the absence of indisposed Ishant Sharma.
captain refused to reveal his combination for the match but said he would not want to be predictable.
"I think you can't go with one set of combination or one track of mind, it's not logical in the longer run. You become predictable. You have to field the bowlers depending on the condition. We have to assess the workload on bowlers," said Kohli.