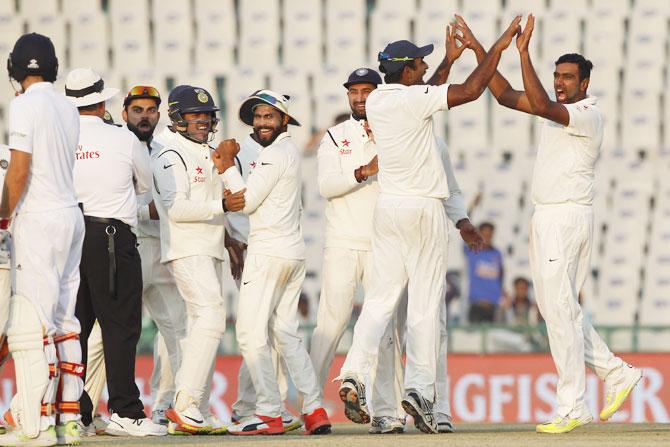 IMAGE: Ravichandran Ashwin celebrates the wicket of Ben Stokes on Day 3 of the 3rd Test at the Punjab Cricket Association IS Bindra Stadium, in Mohali on Monday. Photograph: BCCI
Ravichandran Ashwin may have had a huge role in instilling self doubt in the England batsmen but his spin partner Ravindra Jadeja reckons that is has also got a lot to do with which team is dominating the proceedings.
Ashwin is only the third Indian cricketer to have scored 500 runs and taken 50 wickets in a single season.
Asked if Ashwin's foxy bowling is playing on the minds of the England top-order, Jadeja said: "In Test cricket, a lot depends on situation. If a team has upper hand, obviously the opposition will struggle. In my opinion, if a team has upper-hand, that particular team's batsmen as well as bowlers would look more dangerous."
When Jonny Bairstow was asked the same question about Ashwin winning a mind game over Alastair Cook, he was quick to defend his captain.
"First of all, Cook's gone onto to the top-10 of the most runs scored by any Test batsman. So I don't think there is much problem from his end. He has scored a heck of a lot of runs over a heck of a long period of time against any attack in the world," said Bairstow.
But Bairstow did praise Ashwin.
"Look, Ashwin is a quality bowler. He is a bowler who has got a lot of tricks and lot of variations. He varies his pace really well, his trajectory is different at all times. So at some point you got to give credit to the bowler as well.
"Yeah he (Ashwin) is bowling nicely but it's not that he has got 10-for in every innings he has played against or things like that. Yadav has got wickets too, Jadeja has got wickets so we treat him as the same way like we do to every other bowler that we come across," said Bairstow.
Bairstow also agreed that England were outplayed today.
"I think they (India) have won today. I think up until this morning, it was evenly poised, to be honest with you. If this morning, we'd gone bang bang for two wickets, it would have been a great start to the day. But unfortunately that was not the case. They have played well this morning, to give them credit. So yeah, they played nicely today and put us in a tough position."