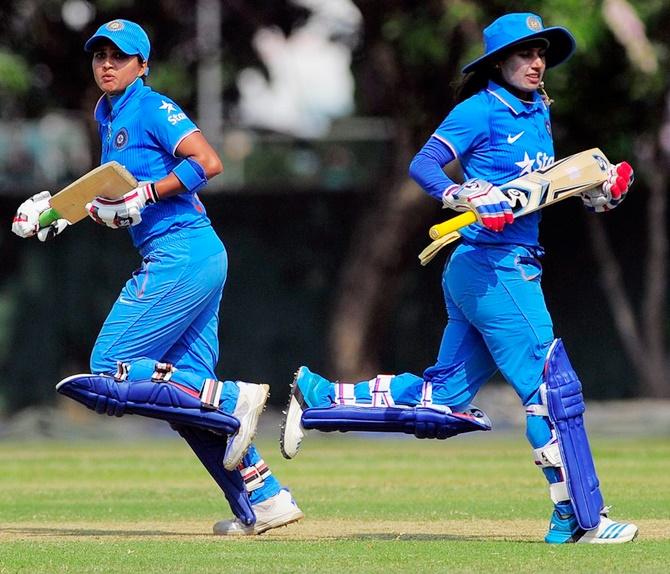 India women's team skipper Harmanpreet Kaur faced backlash from Mithali Raj's manager Annisha Gupta on the team's decision to drop a player of her calibre.
India crashed out of the ICC Women's World T20 against England after losing the match by eight wickets on Friday.
According to a report by ESPNcricinfo, Mithali Raj's manager took to social media to criticise Harmanpreet.
Gupta, in a series of tweets described Kaur as a 'manipulative, cheat, lying, immature, undeserving captain'.
"Unfortunately @BCCIWomen believes in politics not sport. After witnessing what @M_Raj03's experience could do in IndvIre (Mithali Raj scored 51 runs against Ireland) it's shocking that they went with what pleases @ImHarmanpreet -a manipulative, lying, immature, undeserving captain," the tweet reportedly stated.
Gupta, in a telephonic conversation to ESPNcricinfo, confirmed that the unverified Twitter account from which the tweets were made belonged to her and defended her statements by saying that the criticism came 'from the right place'.
"I'd like to say that I don't know what is going on on the inside but, now that the matches are being telecast, we can see who is performing and who is not," Gupta was quoted.
The account from which the tweets were made was deleted two hours after she gave her confirmation.
After the match, Harmanpreet Kaur said that she has 'no regrets' as it was decision taken keeping team's interests in mind.
The Indian batting collapsed as they managed only 112, with eight wickets falling for 24 runs as the visibly upset veteran's blank stare sitting in the dug-out said it all.
At the toss, Harmanpreet said: "It's not about not selecting Mithali, it's about keeping a winning combination."
The decision was questioned by former England captain Nasser Hussain and former Indian Test player Sanjay Manjrekar on air.
However the Indian skipper defended her decision.
"Whatever we decided, we decided for the team. Sometimes it works, sometimes it doesn't, no regrets. I'm proud of the way my girls played through the tournament," Harmanpreet said at the post-match presentation ceremony.