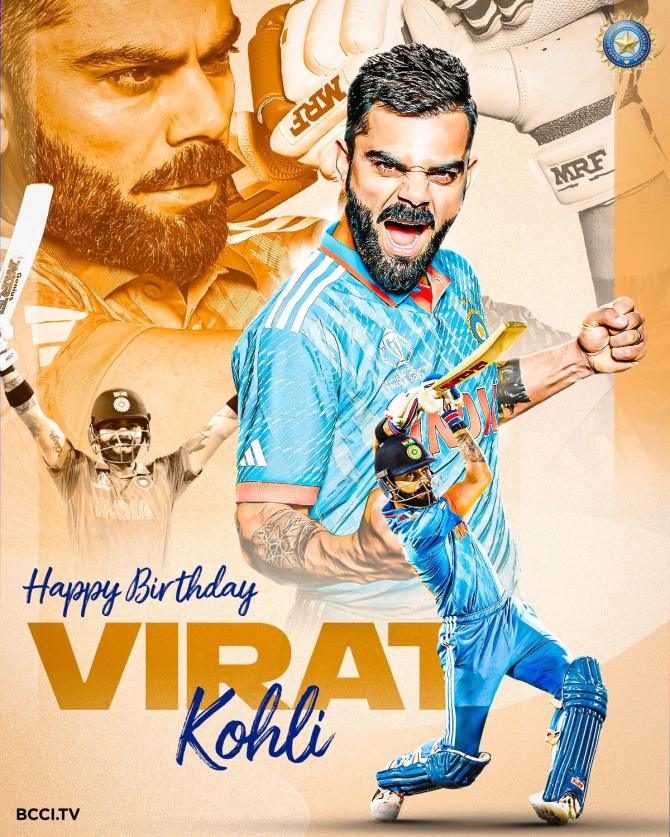 Virat Kohli, the iconic Indian batter celebrates his 35th birthday on Saturday.
From his early days, leading India to an U19 World Cup victory in 2008 and making his international debut the same year, Kohli has consistently dominated headlines with his extraordinary batting prowess.
Throughout his career, he has broken records, chased runs, and single-handedly won matches, earning a place among the cricketing greats.
In Test cricket, Kohli has represented India in 111 matches, amassing 8,676 runs at an average of 49.29, including 29 centuries and 29 fifties, with his best score being an impressive 254*. He ranks as India's fifth-highest Test run-scorer, with Sachin Tendulkar holding the top position at 15,921 runs. Kohli's Test century count places him fourth among Indian batsmen and within the top 10 worldwide.
Kohli stands out as India's most successful Test captain, leading the team to 40 wins, 17 losses, and 11 draws in 68 matches. His captaincy saw India clinch five successive ICC World Test Championship maces, consistently ending as the top-ranked side for five consecutive years. Under his leadership, India developed one of the most formidable Test pace attacks in history, featuring bowlers like Jasprit Bumrah, Mohammed Shami, Umesh Yadav, Ishant Sharma, and Mohammed Siraj.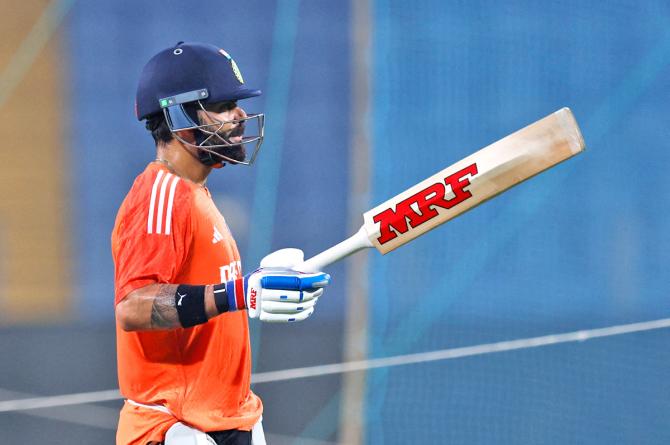 In One Day Internationals (ODIs), Kohli's performance is nothing short of extraordinary. In just 288 ODIs, he has scored 13,525 runs at an astonishing average of 58.04, with 48 centuries and 70 half-centuries in 276 innings. His best score in ODI is 183. Currently, he stands as the fourth-highest ODI run-scorer worldwide and the second-highest for India, trailing only Sachin Tendulkar, who holds the record at 18,426 runs in 463 matches.
Kohli is now chasing Sachin's record of 49 ODI centuries and 18,426 runs, and his exceptional fitness and form suggest he has a good chance of achieving this milestone. In ODI chases, he is a true 'Chase-Master', amassing 7,794 runs at an average of 65.49 in 159 matches, with 27 centuries and 40 fifties. During successful run-chases, he has scored 5,786 runs at a jaw-dropping average of 90.40 in 102 matches, including 23 centuries and 25 fifties in 96 innings. Kohli is also the fastest to reach milestones from 8,000 to 13,000 ODI runs.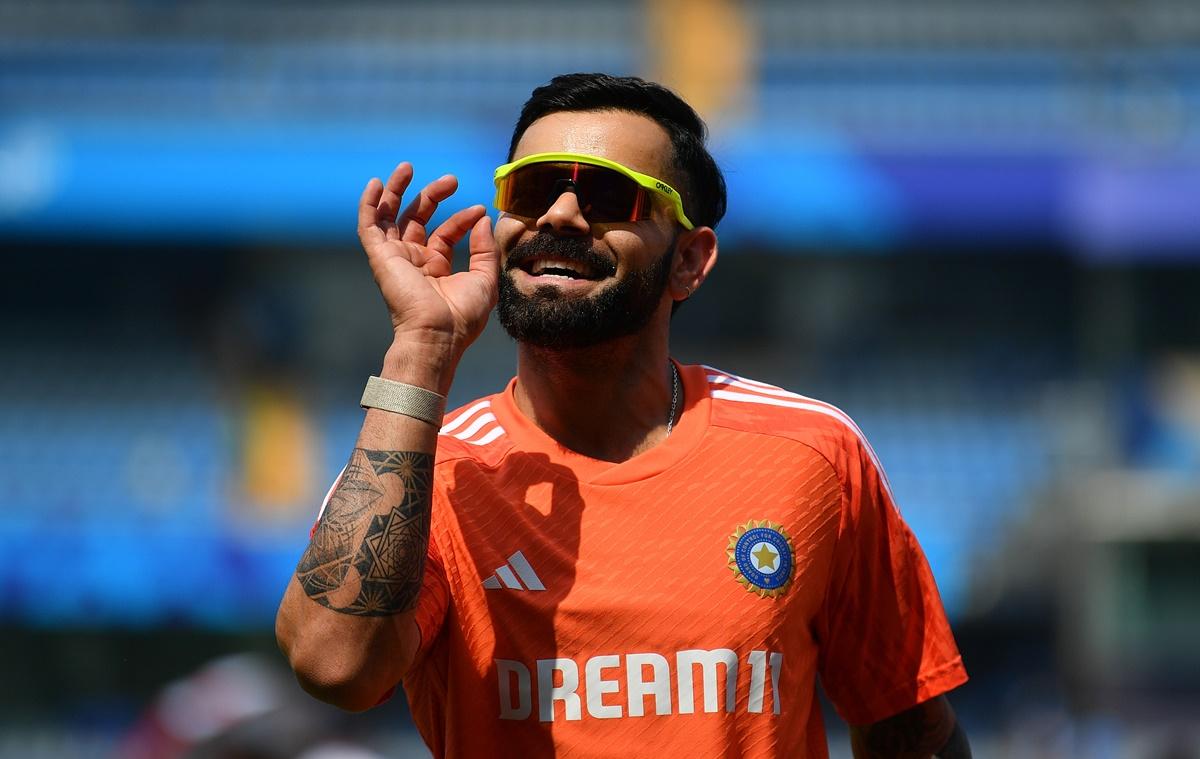 In T20 Internationals (T20Is), he has scored 4,008 runs in 115 matches and 107 innings at an average of 52.73, including one century and 37 fifties, with his best score being 122*. He stands as the highest run-scorer in T20Is and has received numerous 'Man of the Match' (15) and 'Man of the Series' (seven) awards in the format. As a T20I captain, he has led India in 60 matches, securing 30 wins and maintaining a remarkable win-loss record.
When we consider Kohli's overall international career, he has participated in 514 matches, accumulating 26,209 runs at an average of 54.03, with his best score being 254*. He has an incredible 78 centuries and 136 half-centuries in international cricket, making him the fourth-highest run-scorer worldwide and the second-highest for India, with Sachin Tendulkar topping the list at 34,357 runs in 664 matches.
Kohli is known for thriving on the big stages and holds the distinction of being the only player to score 3,000 runs in ICC white-ball events. In 33 Cricket World Cup matches, he has scored 1,472 runs at an average of 54.51, with three centuries and 10 fifties. He is the fourth-highest run-scorer in the tournament's history. In T20 World Cups, Kohli tops the charts, scoring 1,141 runs in 27 matches and 25 innings at an impressive average of 81.50, with 14 fifties.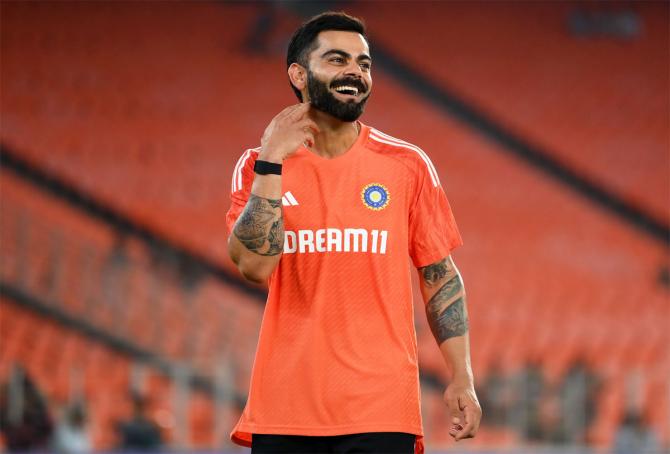 A remarkable stat about Kohli's T20I batting is his exceptional performance in successful run-chases, where he averages 518 in nine matches, with seven fifties and just one dismissal. He has been a key factor in India's T20 World Cup successes.
In ICC Champions Trophy matches, Kohli has scored 529 runs in 12 innings across 13 matches, boasting an average of 88.16, with his best score being 96, and accumulating five half-centuries. In 73 ICC event matches across 70 innings, he has scored 3,142 runs at an average of 66.85, with three centuries and 29 fifties.
Kohli was a vital part of the Indian team that won the 2011 ICC Cricket World Cup and the 2013 ICC Champions Trophy, solidifying his legacy as a champion on the international stage.
In the Indian Premier League (IPL), Kohli dons the colours of the Royal Challengers Bangalore. With 7,263 runs in 237 matches at an average of 37.24, he is the highest run-scorer in IPL history. His seven centuries hold the record for the most IPL tons. His incredible tally of 973 runs in 16 matches during IPL 2016, which included four centuries and seven half-centuries at an average of 81.08, remains a peak achievement in T20 cricket by an Indian.
Kohli's accolades extend beyond the playing field. He was honoured as the ICC Men's Cricket of the Decade for 2011-2020 and has received two ICC Player of the Year awards, three ICC ODI Player of the Year awards, and one Test Player of the Year award. In 2018, he received India's highest sporting honour, the Major Dhyan Chand Khel Ratna award, cementing his status as a sporting legend.