Former Pakistani Test captain Rashid Latif has slammed the Umpire Decision Review System (UDRS) as 'half-baked', saying that it is far more dangerous than even match-fixing and spot-fixing.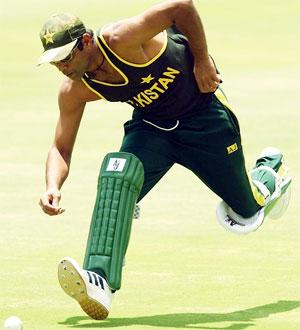 According to the Daily Times, Latif is of the opinion that the International Cricket Council (ICC) should have introduced the UDRS after a methodical review to make it as error-free as possible, adding that the system would continue to damage the game until its faults are rectified.
Latif, a veteran of 37 Tests and 166 ODIs, said that he considered the faulty UDRS more dangerous than the menace of fixing as it is under the control of the ICC and the umpires, adding that the ICC should stop using the UDRS unless it becomes almost error-free.
Stating that some sports bodies, around the world, had taken their time while implementing their respective technologies, Latif further said that the ICC should also halt the use of the UDRS for a while, and re-launch it with utmost precision later.
Accepting that the ICC initially implemented the UDRS with state-of-the-art equipment along with the broadcasters of England and Australia, Latif, however noted that later the quality of the system, especially the Hawk-Eye and the Hot Spot, deteriorated due to the heavy cost attached to the procedure.
Criticising the ICC for unnecessarily trying to justify the umpiring blunders in the first Ashes Test held at Trent Bridge, Latif also said that Australia would have won the Test match if sub-standard umpiring decisions had not let them down, adding that there is no use to keep such technology if it is not able to restrict blunders.
Image: Rashid Latif
Photographs: Stu Forster/Getty Images