England off-spinner Graeme Swann has revealed that he considered giving up cricket four years after making his ODI debut against South Africa in 2000.
The 32-year-old Swann, who played his first Test in 2008, nearly quit the sport after driving into a car park at Northampton and slumping over the wheel in 2004. 
"I was low on form, low on confidence, I wasn't enjoying my cricket and I don't think the coach at Northampton (Kepler Wessels) was particularly enjoying me, either," Swann said.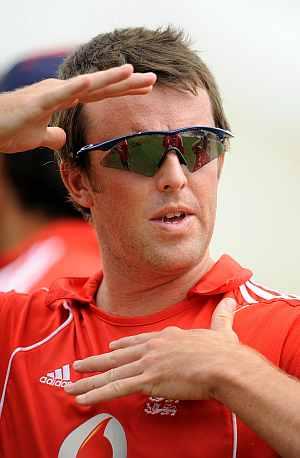 "Pulling into the car park one morning, I just lay my head on the steering wheel and thought, 'Oh God, I don't really want to play today. How can I go through with this again?'
"If somebody had offered me six months' work on a cruise ship, I would have set sail," he was quoted as saying by Mirror.
Down and out then, Swann fought back to become one of the leading off-sinners in world cricket along with India's Harbhajan Singh.
"Luckily, Nottinghamshire came along in 2005 and offered me a new lease of life. I fell in love with the game again, and players can only perform at their best if they are truly enjoying their jobs." 
"Since I made my debut I've enjoyed every minute because I was ready for it," he said.
As Swann's performance graph headed north, experts started drawing a parallel with former England stars Jim Laker, Derek Underwood and Fred Titmus besides Harbhajan. 
Next month Swann will go head-to-head with Harbhajan, which many believe, could turn out to be a battle for claiming the unofficial title of the world's number one off-spinner. 
"It's flattering to hear the comparisons, but this is my time and I've had to wait a long time for it. 
"My first call-up into the England squad came when we were officially ranked the worst Test team so it's great to be part of a side who are aiming for number one," Swann said.