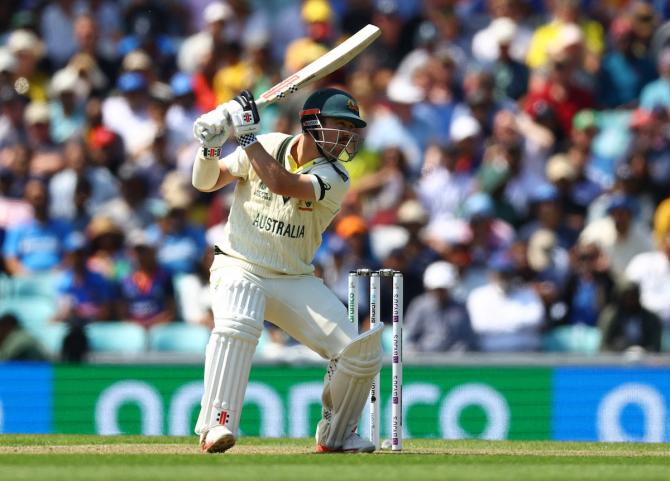 Travis Head's explosive batting display on day one of the 'Ultimate Test' against India at the World Test Championship final has earned him comparisons to legendary wicketkeeper-batsman Adam Gilchrist.
The day one belonged to the aggressive Head whose 146 came from just 156 deliveries as he counter-attacked the Indian attack as the wicket eased out.
Australian greats Matthew Hayden and Ricky Ponting compared Head as to the teammate and legendary wicketkeeper batter Adam Gilchrist after he swung the momentum in Australia's favour.
"It was a classical Travis Head attacking style. One of the things in this Championship cycle is that Head not only scored over 1000 runs but he did at a strike rate of 80-plus," Hayden said.
"That's really hard to do when you are playing a tournament of such pressure, and also you are under enormous pressure because of the atmospheric conditions. But he finds a way to get this terrific strike rate."
"He is almost like Adam Gilchrist was in his day, somehow able to put so much pressure on opposition simply because they do not know where to bowl," Hayden added.
Gilchrist had a strike-rate of 81.95 during his illustrious Test career and Head is walking down a similar path having scored at a similar clip during Australia's World Test Championship campaign.
"He probably is (similar to Gilchrist). In fact he is probably scoring quicker now than Gilly probably ever did," Ponting said.
"His strike-rate through this (World Test Championship) qualification period is 81, which is higher than anyone else in the world to have scored more than 500 runs."

Shami and Co erred in their length

Ponting further said India's pacers erred with their length early against Head.
"I think when he first comes in you need to execute perfectly to him. It is no good trying to over attack him because if you bowl any bad ball, he is going to put it away," Ponting noted.
"They will learn by the way they bowled to him in this first innings, and they will definitely adjust in this second innings, but sometimes it is too late."