'I am actually running the cricket (as CAB president). You can't do both at the same time.'
'Lot of people have asked me that you have been with Dhoni, so how does he remain calm? I tell them that he doesn't show it.'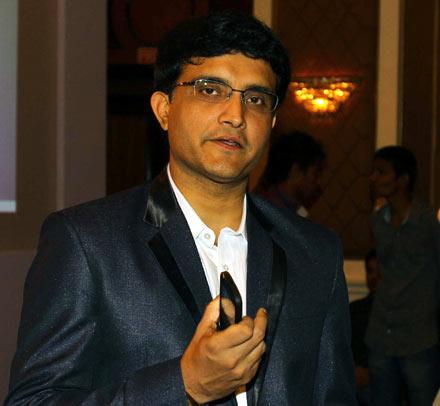 Sourav Ganguly says he is not in a position to take up the job of coach of the Indian cricket team at present even if offered to him.
"I really don't know as I have got another job to do at the moment. I am actually running the cricket (as CAB president). You can't do both at the same time.
"You have to see where life goes. At the present moment, 'No' (to coaching), as I am an administrator with responsibilities of running the game," Ganguly said, when asked whether he is ready to coach the Indian team.
On whether he could be the next president of the Board of Control for Cricket in India, the former India captain was non-committal.
"I really don't know. I have just started a career and I don't where it will go and where it will finish. I don't rule out anything in life nor do I look too far forward either. I live for the day and the moment.
"I am trying to do the job I have at present to the best of my abilities and let's see what happens," he said at an NDTV event.
On his role in the high-profile Cricket Advisory Committee (CAC) that is supposed to pick the next coach, he said: "To be honest, I don't know whether that committee exists at all. I think team is doing well and may be we will have to think about it in future."
Ganguly said current limited-overs' captain Mahendra Singh Dhoni has been in the hot seat for such a long time that he has mastered the art of taking criticism in his stride while staying "calm under pressure".
Asked whether Dhoni is unfairly criticised at times, he replied: "It is part and parcel of the job. MS has been captain for such a long time and he is used to it. We all get used to it. At the same time, when we do well we are taken up to mountains and the skies.
"MS has this fantastic ability to remain calm under any situation. Lot of people have asked me that "you have been with him, so how does he remain calm? I tell them that he doesn't show it.
"From inside he is different, from outside he is different. That goes around in the dressing room and he gets a lot of respect. We only look at the criticism but amount of respect he gets in India is unbelievable," Ganguly said.
Time is a problem why he is not writing an autobiography as he has to juggle his professional as well as administrative commitments.
"You have got to find time to do it. I am doing too many jobs at the moment. I do honorary jobs as well as I have to earn my living. May be someday, I will get time to write."