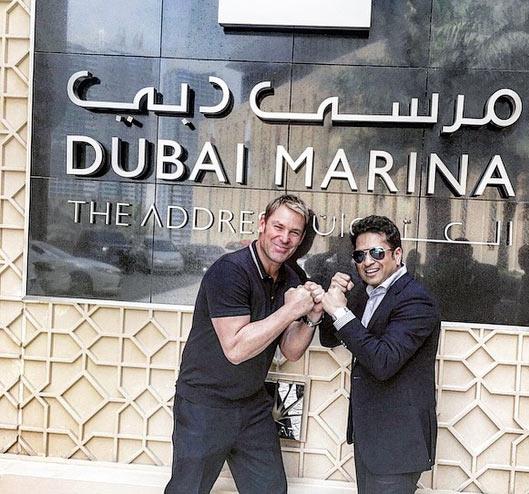 Shane Warne and Sachin Tendulkar pose outside the Dubai Marina hotel after their meeting with ICC CEO Dave Richardson. Photograph: Shane Warne/Instagram
Sachin Tendulkar and Shane Warne met with ICC Chief Executive Dave Richardson at the global body's headquarters in Dubai on Wednesday to discuss their ambitious Legends T20 cricket League, proposed to be held in the United States in August-September.
"Sachin and Warne dropped in at the ICC headquarters this morning and met the ICC CEO Dave Richardson to share their planning and blueprint for the league that they are planning to float," an ICC Spokesperson said on conditions of anonymity.
However, the official clarified that it is not under the ICC's jurisdiction to clear a private league floated by individuals, as it comes under the purview of the home cricket board where the tournament or matches are supposed to be held.
"Look, ICC is not the body to clear the tournament. As per ICC's constitution, it is the home board that clears the tournament and informs the ICC subsequently about it.
"For example, it was the BCCI that informed us that the Indian Cricket League, backed by Essel Group, was not approved by them. So it was dubbed as an unsanctioned league. Similarly, IPL, CPL, Natwest T20 Blast are leagues approved by BCCI, ECB and WICB," the official explained.
The matches are being planned in US cities like Chicago, New York and Los Angeles.
"The rule remains the same. There the governing body is USACA (United States of America Cricket Association) and if it's being held in the US, they would need their approval."
There is a possibility that the two legends met Richardson to seek guidance from the ICC regarding logistical matters related to conducting a tournament and other nitty-gritties.
Both Tendulkar and Warne took to Twitter to confirm their meeting with the ICC's top official.
"Looking forward to the challenge @ShaneWarne. GAME ON!! It is #SachinversusWarne!!!," Tendulkar tweeted before the meeting.
"Exciting meeting today with the #ICC Game on #SachinversusWarne !!!" was Warne's tweet.
Tendulkar and Warne have reportedly offered 28 former players contracts worth US $25,000 a match for the proposed league.
According to reports, Brett Lee, Andrew Flintoff, Jacques Kallis, Adam Gilchrist, Glenn McGrath, Michael Vaughan, Sourav Ganguly, Mahela Jayawardene were among the former stars who have been approached for the proposed league.
Under the reported proposal, a series of matches will be held around the world over a three-and-a-half-year period, with the US to host the first series in September.
New York, Los Angeles and Chicago were cited as the leading contenders to host the matches in the US.