If crowds flock to the India ODI on Friday, the Gabba could host a day-night Test.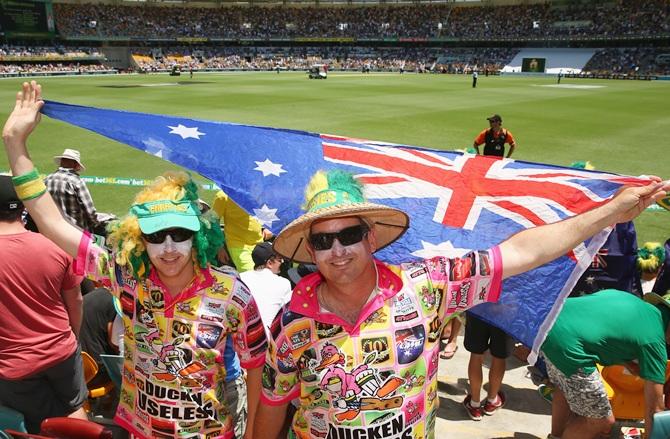 IMAGE: Australian fans at the Gabba. Photograph: Scott Barbour/Getty Images
Friday's One-day International against India at the Gabba in Brisbane could be a kind of dress rehearsal for the Queensland Cricket Association to earn a Pink Ball Test as the turnout at the stadium has been poor.
According to The Sydney Morning Herald, 'The Gabba looks set to sign off its up-and-down summer with a strong one-day international crowd that could be pivotal to its chances of earning a prized pink ball Test.'
'Brisbane was pilloried for poor crowds to start the 2015-16 Test summer against New Zealand,' The Sydney Morning Herald pointed out, 'even if the eventual total of 53,572 represented an attendance record for Trans-Tasman red-ball cricket at the venue.'
'An unusually early start and the lack of drawing power of the tourists were given as reasons but rivals circling for Brisbane's Test, or spot in the schedule, were quick to suggest the fixture might be on the ropes and cricket on the nose with locals,' the newspaper reported.
The crowds attracted during local team Brisbane Heats' Big Bash games have been an indicator that spectators love entertainment, The Sydney Morning Herald said.
'Consistently strong crowds for the Big Bash League's Brisbane Heats, despite a tough campaign, showed there was an appetite for entertaining cricket, which should be affirmed with a predicted 30,000-plus crowd for Friday's ODI against India.'
'That sort of number would be a major boost for the Gabba's chances of earning hosting rights for a day-night Test against the South Africans in November or early December.'