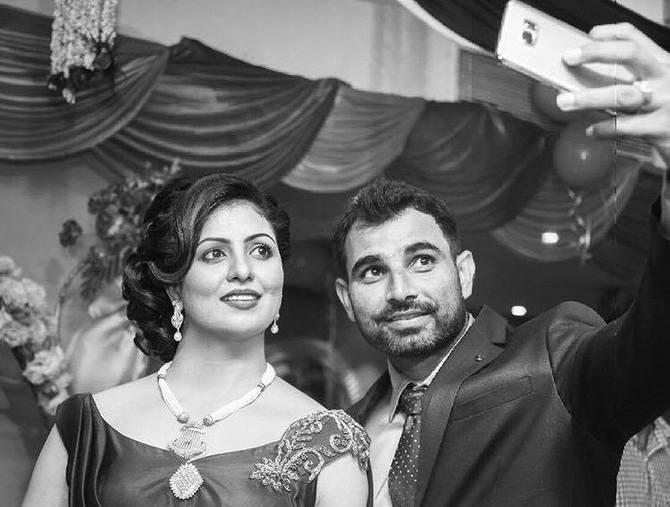 IMAGE: Mohammed Shami's picture with his wife on Facebook.
Former cricketers have come to defense of ace Indian fast bowler Mohammed Shami, who came under sharp criticism of Muslim fanatics for posting his wife Hasin Jahan's pictures on social media.
On December 23, Shami posted a picture along with his wife after which he was viciously trolled, with some even abusing him for the outfit of his wife.
Shami was reminded of his religion, with some even asking why his wife was not wearing a hijab.
Coming to Shami's defense, former Indian cricketer Syed Kirmani said no body has right to interfere into anybody's religious matters, adding that people should learn to look into themselves first before they point fingers at other.
"Nobody should interfere into anybody's personal life. Secondly, there is no force in our Islam. And we have no right to interfere into anybody's religious matters," former Kirmani told ANI.
Echoing similar sentiments, former wicketkeeper-batsman Deep Dasgupta said it was sad that people have reacted in such an irresponsible manner.
"It's sad because the way people are reacting. See that's one of the evils of the social media where there are people who are like that. It's sad that some people in 21st century talk like that. But you cannot really do much," Dasgupta told ANI.
The Bengal pacer also took to Twitter to hit back at these internet trolls in a fitting manner and by being completely polite in his response.
"Very good morning Har kisi ko jindagi mai mukam ni milta, kuch kismat wale hi hote hai jinhe ye nasib hota hai.!.jalteee rahooooo (Not everyone get what they desire, only a lucky few get it. They are my wife and daughter and I know what I should do. We should all look inwards)," he said
"Ye dono meri zindage or life partner hai me acha trha janta hu kiya karna hai kiya nahi.hame apne andar dekhna chahiye ham kitna accha hai.( These two are my life and life partner. I myself know what to do and what not to do. We should all look within ourselves how nice we are)," he added.
"The comments are really really Shameful. Support Mohammed Shami fully. There are much bigger issues in this country. Hope sense prevails," said Mohammad Kaif.
Shami missed the last two Tests of the five-match series against England which India won 4-0.