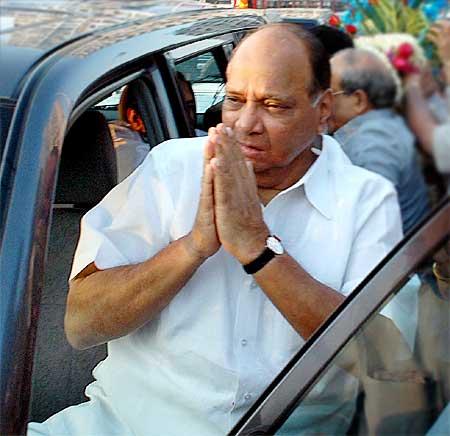 Nationalist Congress Party chief Sharad Pawar and three others have filed nominations for the post of president in the Mumbai Cricket Association's elections scheduled on June 17, the MCA announced on Thursday.

As per the list of valid nominations received for the elections and released through a media release by MCA, incumbent Pawar and his group members Ravi Savant and Bharatiya Janata Party MLA Ashish Shelar, along with rival group's candidate Vijay Patil, are in the fray to contest for the president's post.

"They are only dummy nominations," said a member of the ruling Bal Mahaddalkar group, which is supporting Pawar, regarding the nominations filed by outgoing vice-president Ravi Savant and Shelar.

With June 13 designated as the deadline for withdrawal of nominations, Savant and Shelar are expected to drop out of the fray leaving Pawar in a straight fight against Patil, who is leading the 'Cricket First' group in the elections.

Shelar has also filed his nomination for the vice-president's post along with Mahaddalkar group member and former India captain Dilip Vengsarkar, while Savant's name is there among those who have filed nominations for the two joint secretary's post.

Seven others - including former cricketers Abey Kuruvilla, Lalchand Rajput and Sanjay Patil who are part of the 'Cricket First' panel - are in the fray to contest for the two vice-presidents' posts.

Republican Party of India (A) chief Ramdas Athawale and Shiv Sena's Pratap Sarnaik and Rahul Shewale are three others in the fray for vice-president.

The rival groups are well represented in the fight for the two joint secretary's post as well as that of the treasurer, as also in the contest for a spot in the eleven-strong managing committee.
Image: Sharad Pawar.