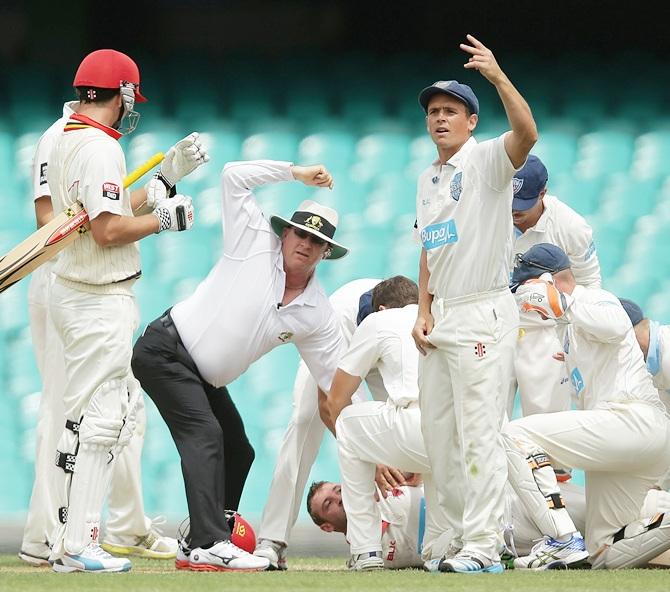 Phillip Hughes of South Australia is helped by New South Wales players after falling to the ground after being struck in the head by a delivery. Photograph: Mark Metcalfe/Getty Images
Australia batsman Phillip Hughes remained in critical condition in a Sydney hospital on Tuesday after undergoing emergency surgery for a sickening head injury sustained when struck by a ball during a domestic match.
The 25-year-old was transferred to St Vincent's hospital's intensive care unit after surgery and his condition was not expected to become clear for 24-48 hours.
"He is still critical, he is in ICU," a hospital spokesman said.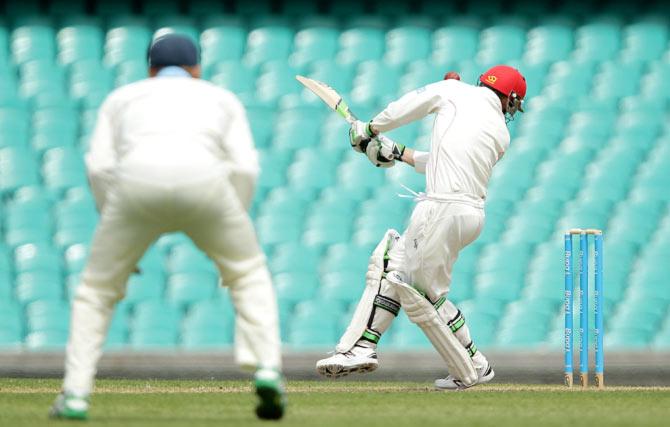 Phillip Hughes is struck by a short delivery from fast bowler Sean Abbott. Photograph: Mark Metcalfe/Getty Images
Fitted with a ventilator to aid his breathing, Hughes was rushed from the Sydney Cricket Ground in an induced coma, having collapsed to the ground when struck in the helmet by a short-pitched delivery from New South Wales fast bowler Sean Abbott.
Hughes, touted to replace injured Australia captain Michael Clarke for next week's Test match against India, had scored 63 runs for South Australia before being hit.
Apparently dazed by the blow, the left-hander stooped over and put his hands on his knees before falling face first onto the pitch, causing players and medical staff to rush to his aid.
Though often viewed as a gentle game, cricket's fastest bowlers regularly deliver the ball at speeds of over 140kph and batsmen defend themselves with a wooden bat less than a metre long and about four inches wide.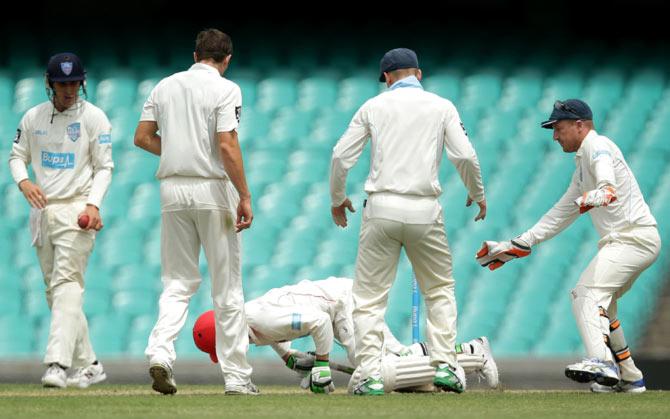 Phillip Hughes falls to the ground after being struck by a short delivery from fast bowler Sean Abbott. Photograph: Mark Metcalfe/Getty Images
A cricket ball is roughly the same shape and size as a baseball but heavier and harder. While batsmen are heavily padded, they often sustain painful and perfectly legal blows from fast bowlers who have full license to launch deliveries that bounce up at head height.
Balls occasionally strike batsmen on the helmet, often drawing blood on impact, but the seriousness of Hughes's injury shocked seasoned cricket writers and players alike.
"Thoughts are with Phil Hughes. Terrible to see and just shows how dangerous our game can be," Australia leg-spinner James Muirhead tweeted.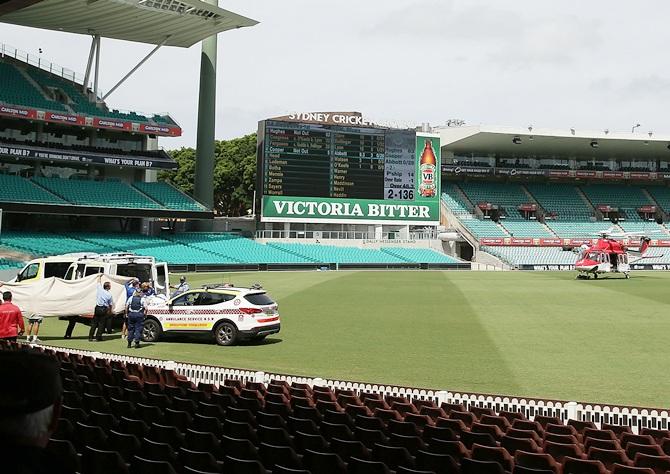 A helicopter lands on the field of play after Phillip Hughes of South Australia was struck in the head by a delivery. Photograph: Mark Metcalfe/Getty Images
After the blow, Hughes was placed on a motorised stretcher and taken to the boundary where medical staff performed mouth-to-mouth resuscitation before he was rushed to hospital by ambulance.
The match was called off for the day.
Australia captain Michael Clarke arrived at the hospital to check on Hughes' condition, where the batsman's mother and sister were also present.
South Australia Cricket's high performance director Tim Nielsen issued a statement on behalf of the family.
"As you all will be aware Phil Hughes suffered an injury this afternoon," the statement read.
"He is presently undergoing surgery and the outcome of that surgery is unlikely to be known in the next 24-48 hours.
"In the meantime, we would really appreciate if you look after his family and friends and respect their privacy please."
News of the injury sparked a wave of sympathy from the global cricketing community and fans on social media.
"Our thoughts and prayers are with phil and his family! He is a great fighter and a great young man!" Australia coach Darren Lehmann tweeted.
The English Cricket Board tweeted: "Thoughts with Phil Hughes and his family from all at ECB. Get well soon."
A popular team man born in a small rural town in northern New South Wales state, the pint-sized Hughes has played 26 Test matches and 25 One-Day Internationals for Australia, but never quite cemented his place in the national set-up.
Hughes has long struggled to shake off perceptions of vulnerability against short-pitched bowling, but with Clarke injured, he was backed to regain a spot in the Test team for the first match in Brisbane against India starting December 4.