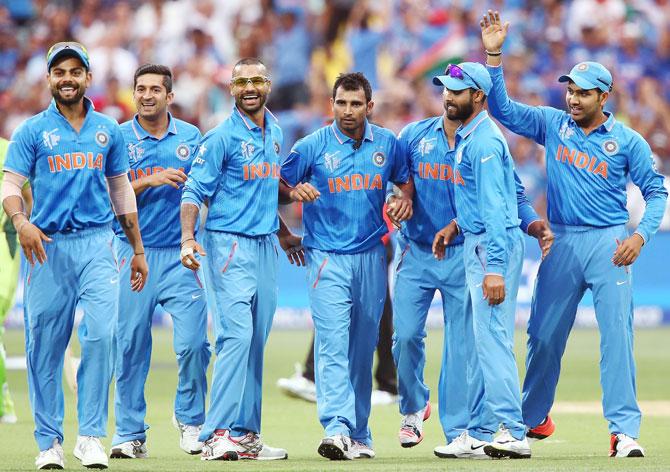 IMAGE: Mohammed Shami (centre) is congratulated by teammates after getting a wicket. Photograph: Morne de Klerk/Getty Images
During the ICC Cricket World Cup that was played Down Under, last year, Mohammed Shami was the pick of the Indian bowlers.
Despite playing through pain due to a knee injury, the Bengal medium-pacer emerged India's best bowler in the tournament, claiming 17 wickets in seven matches.
However, the knee injury ruled him out of cricket for nearly nine months following India's exit in the semi-finals of the World Cup.
Following the a long spell on the sidelines, the 25-year-old pacer is back in the Indian squad for the forthcoming One-Day International and T20 series in Australia, and will be hoping to repeat his performances Down Under.
Captain Dhoni is undoubtedly delighted at having Shami back in the scheme of things as India look to get back to winning ways after losing both the ODI and T20 series at home to South Africa.
"Shami has been a very good bowler for us, especially if you see the period before he got injured. He has been equally effective for us with the new ball, in the middle overs and in the death. He has been very consistent in his performance. He has worked really hard during his rehab. It will be interesting to see how he shapes up. I will try to manage him well because the World Cup is just round the corner," Dhoni said on Tuesday in Mumbai.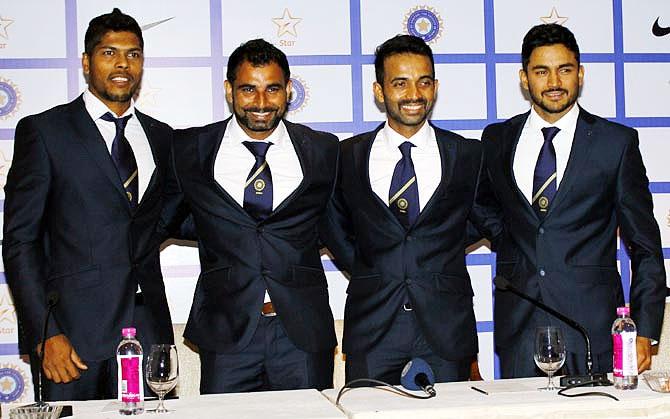 IMAGE: India's Umesh Yadav, Mohammed Shami, Ajinkya Rahane and Manish Pandey at the BCCI media meet in Mumbai on Tuesday. Photograph: Hitesh Harisinghani/Rediff.com
Shami, himself, revealed the torture he suffered due to the injury -- he was bed-ridden for the first two months -- that kept him away from the game.
"The doctor had told me not to get out of bed for two months. It was the most difficult phase for me. I was not allowed to keep my feet on the ground. I was only allowed to get up from my bed and go to the bathroom.
"And the second thing is I couldn't play. When I left the crutches and met the team before the tour of Bangladesh, I felt like I was alive again. I had not seen the dining room even for those two months. I started feeling good again when I started light running and my cricket. I felt like I was back to my world. It is very difficult to be mentally strong during this period," he said.
The bowler says it is a big mental blow for any cricketer to be ruled out with injuries.
"Injuries are very irritating for me and any other cricketer. It's very difficult to mentally come out of an injury. I just hope it never happens to me again in my life."
Having recovered from his injury, Shami played for Bengal in a few domestic matches, claiming three wickets in the two Vijay Hazare Trophy one-day matches.
He got back his top rhythm for the Syed Mushtaq Ali Trophy T20 matches, claiming five wickets in two games.
"It was very important for me to get back my rhythm and get some matches under my belt. I wanted to start from where I had left before my injury. I was feeling comfortable as I was able to bowl with the same pace and hit the same line and length," he said.