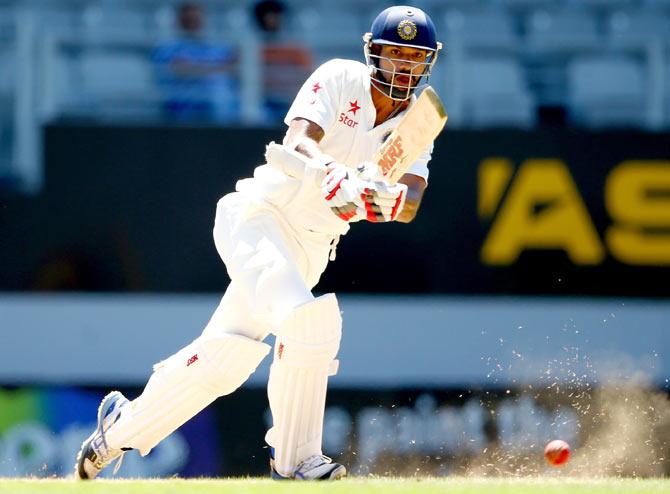 IMAGE: Shikhar Dhawan in action. Photograph: Phil Walter/Getty Images
Senior opener Shikhar Dhawan is all set to be back in action having recovered from a fractured left-thumb sustained during the second Test match against New Zealand at Kolkata in September.

Dhawan is all set to play Delhi's next Ranji Trophy game against Rajasthan at Wayanad in Kerala, starting November 21.

Delhi coach KP Bhaskar confirmed Dhawan's availability for the next round encounter.

"Shikhar has fully recovered from the left thumb fracture and is fit to play competitive cricket again. His rehab is also complete and has gone back to National Cricket Academy for a final check-up. He has told me that he will be joining the squad directly in Wayanad from Bengaluru. Shikhar's presence will certainly bolster the side," Bhaskar said on Tuesday.

Dhawan was ruled out of the third Test against New Zealand and in his place veteran Gautam Gambhir made a comeback. The 30-year-old was also not fully fit by the time the squad for the first two Tests against England was named.

Dhawan needs a good showing in the Ranji match to be in contention for selection for the last three matches of the five-Test series against England as he faces still competition for the opening slot.

Fit-again opener KL Rahul was added to the Indian squad after he made a good comeback from injury with scores of 76 and 106 for Karnataka against Rajasthan in the ongoing Ranji Trophy match.

Dhawan's scores in his last three Test appearances are 1, 26, 29, 29, 1 and 17, which does not exactly inspire confidence of highest order.

Murali Vijay is an automatic choice, while Rahul or Gambhir could open in the second Test in Visakhapatnam, starting on Thursday.

Veteran Gambhir, who scored a second innings 50 against New Zealand, is also fighting to keep his place after twin failures at Rajkot, where his technique against England pacers was thoroughly exposed.

Unless another injury happens to any opener during the ongoing series, Dhawan would be looking to get himself ready by playing the next few Ranji Trophy rounds in order to get into the limited overs side as he is very much in the scheme of things as far as Champions Trophy in England is concerned.

Dhawan has so far scored 1464 runs at an average of 38.62 from 23 Tests.