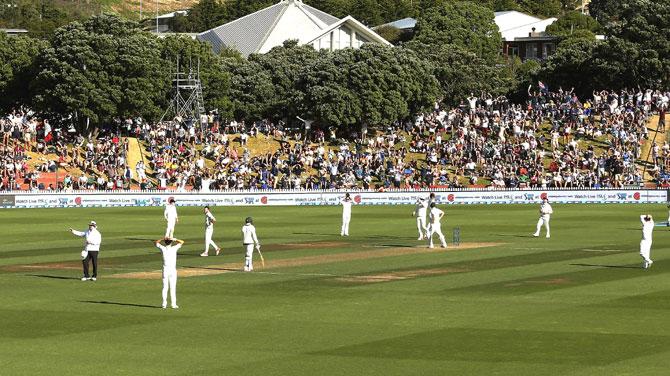 IMAGE: New Zealand's players react after Doug Bracewell bowls out Australia's Adam Voges off a no-ball on Day 1 of the first Test at Basin Reserve in Wellington on Friday. Photograph: Ryan Pierse/Getty Images
Australia's players feared another backlash from New Zealand fans after a contentious no ball decision went in their favour in the final over of the first day's play of the first Test on Friday.
- 1st Test, Day 1 PHOTOS: Smith, Khawaja give Australia advantage
Adam Voges was batting on seven when he was bowled by Doug Bracewell with two deliveries remaining in the day's play, only for umpire Richard Illingworth to signal a no ball.
Television replays, however, showed the delivery was legal but because the no ball had been called New Zealand were unable to ask for a review. Australia finished the day on 147 for three, 36 runs behind New Zealand's first innings tally of 183.
The replay had the potential to create a backlash against the Australians similar to that they experienced after the final One-Day International at Seddon Park in Hamilton on Monday.
In that match, Mitchell Marsh was given not out caught and bowled on 41 with his side in charge of their run chase, only for the crowd to erupt into a chorus of boos when they saw a replay on the big screen that showed he had been dismissed.
Marsh was then given out, creating an angry response from the all-rounder and batting partner Matthew Wade, while captain Steve Smith was booed at the end of the game when he questioned the decision.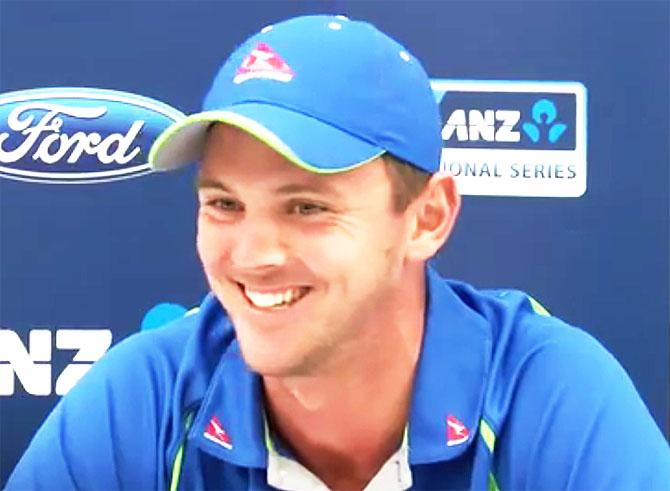 IMAGE: Australia's Josh Hazlewood speaks to the media on Friday. Photograph: Cricket Australia/Twitter
Australian media criticised the Hamilton crowd, calling them 'feral', while suggesting the controversy from the underarm bowling incident from a 1981 one-day match between the two sides had now been put to bed.
Unlike in Hamilton, however, the replay was not shown immediately on the big screen at the Basin Reserve on Friday.
Fast bowler Josh Hazlewood said his side had been concerned about the Voges decision when they saw replays.
"We were just hoping it didn't come up on the big screen too quickly," he laughed at a media conference.
"(But) the umpires had made the decision. That's what they're there for, to make those tough decisions and that's how it went."
New Zealand shrugged off the decision, having not seen the replay on the field.
"That's cricket I suppose. Once his arm is thrown out there's not much you can do about it. That's the way it goes, off-spinner Mark Craig said.
"There was some obvious disappointment but you can't do anything about it."