As late Australia cricketer Phillip Hughes made his final journey in this world, cricketers, politicians and family members paid homage to the Sydney batsman.
Michael Clarke (Australia captain and teammate of Hughes; in eulogy speech):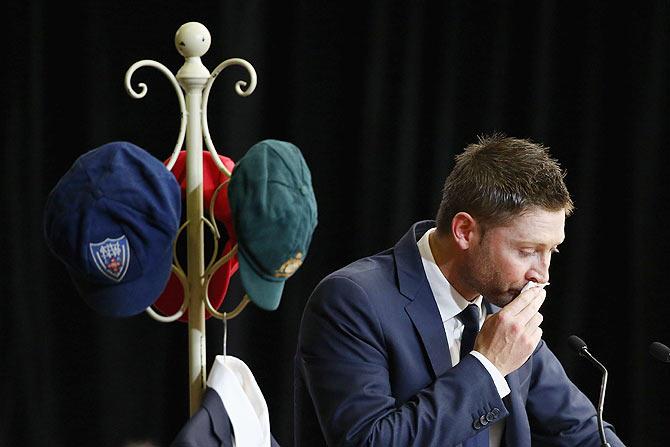 Australian cricket captain Michael Clarke reads out his eulogy to Phillip Hughes during the funeral service. Photograph: Cameron Spencer/Getty Images
"I don't know about you, but I keep looking for him. I know it is crazy but I expect any minute to take a call from him or to see his face pop around the corner. Is this what we call the spirit? If so, then his spirit is still with me. And I hope it never leaves."
Jason Hughes (Older brother; in eulogy speech):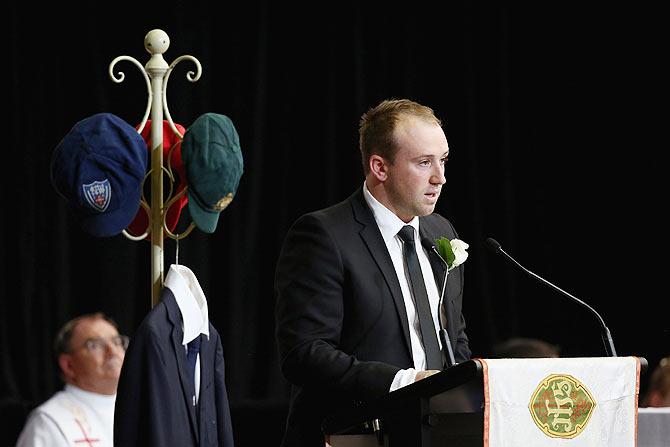 Jason Hughes, brother of Phillip Hughes gives a eulogy during the funeral service for Phillip Hughes.
"I couldn't have asked for a better little brother. From a very young age, you were destined to be a rock star. You moved to Sydney at the age of 17 with 70 centuries already to your name, with your home-grown technique.
"All I ever wanted was for you to look up to me as your big brother. I still can't believe that I'm here saying my final goodbyes."
Megan Hughes (Younger sister; in eulogy speech):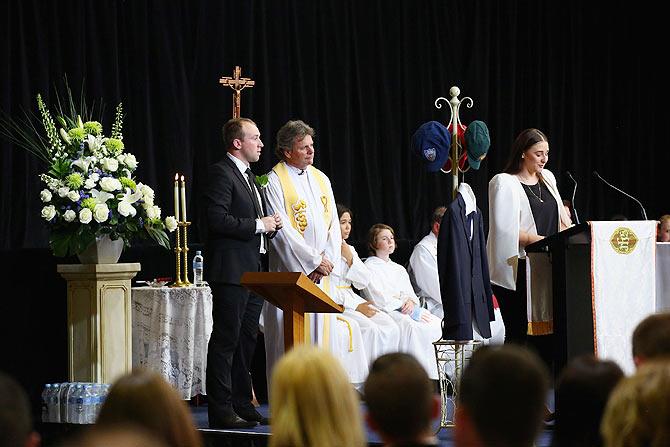 Megan Hughes, sister of Phillip Hughes, reads out her eulogy during the funeral service.
"I promise you Phil that I will continue to live life each and every day, the way you did. From morning to night, your beautiful smile always came out. Even if your life wasn't going to plan, you never took anything for granted and always knew how lucky and blessed you were from everything that came your way."
James Sutherland (Cricket Australia, CEO; in eulogy speech)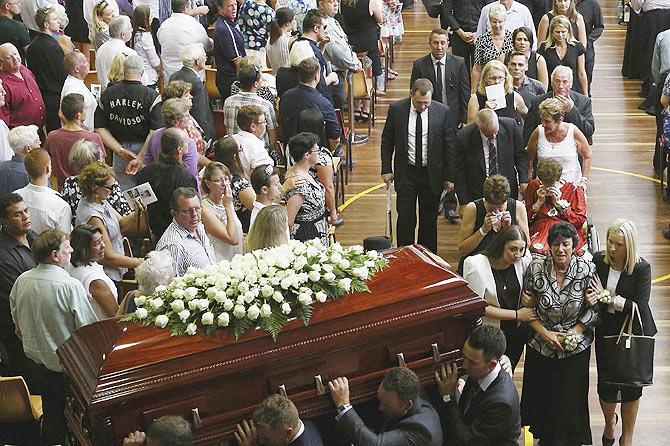 The casket of Australian cricketer Phillip Hughes is carried past mourners at the end of his funeral service in Macksville. Photograph: Cameron Spencer/Reuters
"Quite simply, the boy from this proud community of Macksville, personified the spirit of Australian cricket. Ever since Bradman, the image of the innocent country boy playing in the back yard, while dreaming of wearing a baggy green cap, has become entrenched in our psyche. It's our foundation myth as a cricketing nation. And Phillip loved that dream."
Australia Prime Minister Tony Abbott (On Twitter):
"A sad, poignant, beautiful service to celebrate the life of Phillip Hughes today in Macksville #RIPPhillipHughes."
Mark Taylor (former Australia captain, TV pundit):
"I didn't know him anywhere near as well as some of the players he played with but I think he's had an impact on all of us who follow the game of cricket. We're a competitive lot, we like to win. But we also don't like to see situations like we've seen over the last week and that really brings us together."
Sachin Tendulkar (Former India batsman; on Twitter):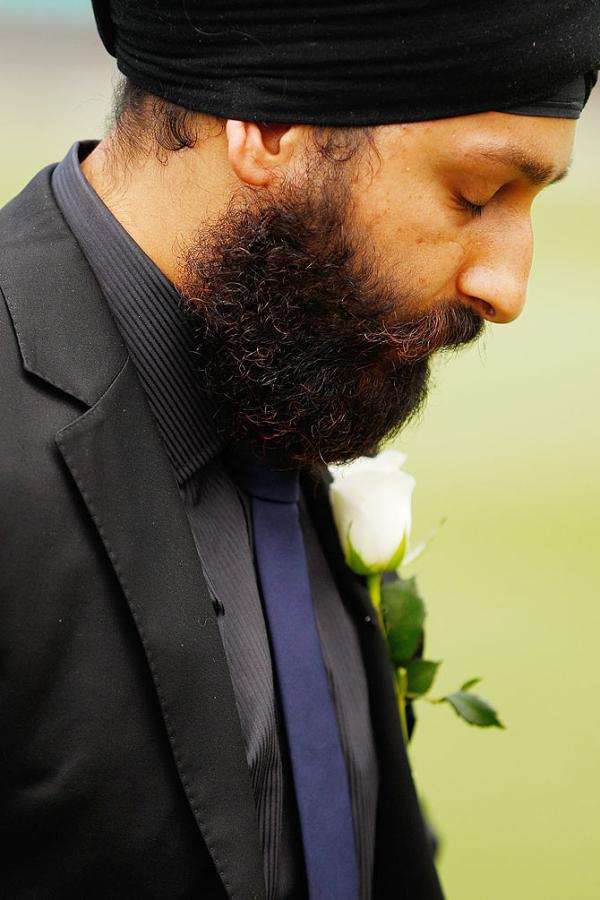 Mourners pay their respects as people gather to watch the funeral service held in Macksville for Australian cricketer Phillip Hughes at the Sydney Cricket Ground.
"Will miss you Phil. Your enthusiasm to learn and drive for perfection was most impressive."
India Prime Minister Narendra Modi (on Twitter):
"Heart-rending funeral in Australia. Phil Hughes, we will miss you. Your game & exuberance won you fans all over! RIP."
Richard Hadlee (former New Zealand cricket all-rounder):
"We are a cricketing family ... You try to play within the spirit of the game but when you lose one of your fellow players, it's important that we acknowledge the contribution of that player, in this case, Phillip Hughes. It's all very sad but we wish him a safe trip further up."