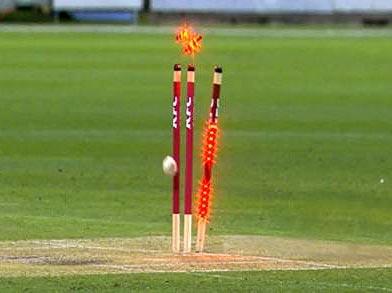 A cricket team bowled out for 0 off just 20 balls!
Surprised?
Yes. It happened in an English county six-a-side indoor championship match in Canterbury.
Chasing 121 for victory against Christ Church University, no batsman from Bapchild Cricket Club could get off the mark and the team from a village in Kent folded for a record-low.
Christ Church player Mike Rose said his teammates were stunned that not a single Bapchild batsman was able to score.
"We all couldn't really believe it to be honest, bowling a team out for 0, especially indoors, as all they needed to do was hit a wall to get one run," Rose told the Crawley Observer.
While it is the first time in the history of six-a-side cricket that a team was bowled out for naught, the Bapchild team can take consolation from the fact that a team of 11 players was also all out for zero in the past.
In 1913, the Langport club from the Somerset region did the same when they were dismissed by Glastonbury, who had posted 80.
In 1964, the Martin Walters side was dismissed without scoring in 8.2 overs while chasing 216 by Kent village team Saltwood CC in 1964.
New Zealand holds the dubious record for the lowest score in a Test -- 26 against England in 1955.