Pietersen will fly to India at the request of his IPL team Sunrisers Hyderabad
'I am absolutely devastated that it looks like my hopes of an England recall have been brought to a close'
'They have used the word trust to justify not selecting me, well, trust is a two-way thing'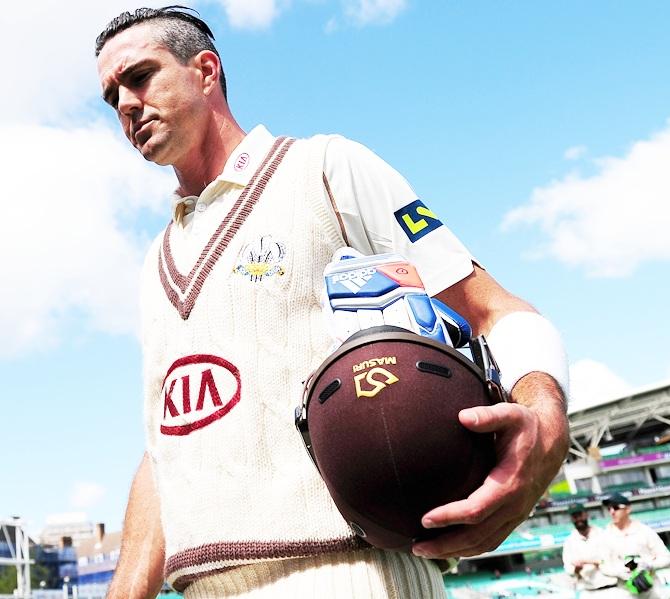 Kevin Pietersen of Surrey leaves the field. Photograph: Dan Mullan/Getty Images
An extraordinary week in Kevin Pietersen's turbulent career will end with him flying back to India to play in the IPL feeling betrayed by what he described as 'deceitful' behaviour by the England management.
Should Kevin Pietersen be given another chance?
Pietersen was told by new England cricket director Andrew Strauss on Monday that he was not in his plans for this summer's Test matches due to a complete breakdown of trust.
And the flamboyant 34-year-old right-hander, who completed a career-best 355 not out for Surrey on Tuesday, responded in typically forthright manner.
"I am absolutely devastated that it looks like my hopes of an England recall have been brought to a close, especially given everything that has been said and asked of me," Pietersen wrote in a column to be published in the Daily Telegraph on Wednesday.
"I had a meeting with Andrew Strauss and (England and Wales Cricket Board chief executive) Tom Harrison at a hotel in London on Monday night.
"I have never hidden my determination to once again represent England and, having played one of the best innings of my career earlier in the day, I must admit I was riding the crest of a wave.
"They have used the word trust to justify not selecting me, well, trust is a two-way thing."
Pietersen will fly to India on Friday at the request of his IPL team Sunrisers Hyderabad.
"It'll give me a good opportunity to cool down and assess what I'm going to do next. I'm just sorry it won't be putting on an England shirt," added Pietersen, who pulled out of a deal to join the Sunrisers in order to play for Surrey and boost his chances of an England recall.
Strauss, who fired England coach Peter Moores on Saturday to raise Pietersen's hopes of a return to the team, explained his thinking at a news conference at Lord's on Tuesday.
"The truth about Kevin is that he is a phenomenal cricketer. But over months and years trust has eroded between Kevin Pietersen and the ECB," Strauss said.
"There is a massive trust issue between me and Kevin."
Despite his chequered past and undoubtedly egotistical approach to the game, it is hard not to feel sympathy for a player who has scored 8,181 Test runs, including 23 centuries.
Pietersen was sacked by England in February 2014 after being accused of being disengaged from the team during the 5-0 Ashes mauling in Australia.
A controversial autobiography further distanced him from an international recall but incoming ECB chairman Colin Graves said in March that he would be considered for selection if he made runs in county cricket.
He has done exactly that.
"I went into the meeting expecting Strauss to say that England's batting order is good at the moment but if I continued to score runs and if an injury occurred then I would be in contention to play," Pietersen said.
"I would naturally have to earn my recall, but at least I would be eligible. But no.
"Quite simply, I feel deeply misled. I had two phone conversations with Colin Graves and he was crystal clear in saying I had to get a county, score runs and that there was a clean slate."
Pietersen said he had given up his IPL contract at great personal expense.
"It is horrendous to feel I have been led down the garden path. They knew all along this was a dead end for me.
"I am angry and hurt but right now there is nothing I can do about it. Strauss will be judged on his results."