India captain Mahendra Singh Dhoni defended out-of-form Gautam Gambhir and Ravichandran Ashwin, but did admit that the former was going through a "lean patch" and the latter was trying to use "too many variations".
"Yeah, he (Gambhir) has been going through a lean patch but he is an experienced player. I believe he has batted a bit better in the last few games. Unlike some of the earlier matches, he didn't look tentative and was a lot more decisive about stroke-making," Dhoni said on Sunday.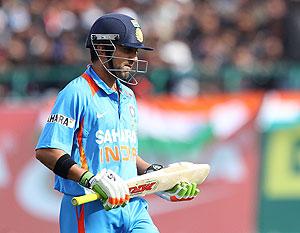 "I believe he is improving and don't forget he is an amazing player of spin bowling. Ideally, we want him to bat till the 35th-40th over," said Dhoni defending the Delhi left-hander, who has now scored only 156 runs in his last eight ODIs.
Similarly when asked about a sudden slump in off-spinner Ashwin's form, Dhoni reasoned, "May be he was using variations a bit too much but he has now realised his mistake. In the last couple of matches, he has been more consistent about length. He has not used too many variations and was trying to bowl to one line.
"But then you also need a perfect mix as variation has been Ashwin's strength. The new ODI rules, with five fielders inside the circle, has also made it slightly difficult."
He was all praise for pacer Ishant Sharma, who has been pretty impressive in this series.
"Ishant bowled really well and in right areas. One needs to understand that he is playing ODI after a long time."
The skipper is also impressed with the effort of young new ball bowlers Bhuvneshwar Kumar and Shami Ahmed, but is certainly in no mood not to throw the youngsters into Test cricket right now.
"Shorter format will give them (Bhuvneshwar and Shami) more exposure.
"Test cricket is entirely different and if you look at someone like Bhuvneshwar, he can be effective in specific conditions. To play him in Tests, you need to have a look at the conditions. Like if we are playing in England, New Zealand or South Africa where the ball swings and seams, he can be considered but on sub-continental tracks he would need to alter the length which he bowls," Dhoni explained.
"As far as Shami is concerned, he is someone who can bowl quick and can reverse the ball but he also needs to improve."
Ravindra Jadeja finally came good, putting up consistent performance in the series and the skipper feels that it augurs well for Indian cricket.
"Jadeja doing well gives us more options. His performance is important for the team as we have been struggling for bowling all-rounders as we only have Irfan (Pathan )," Dhoni said.
"Jadeja has shown a lot of improvement in batting. But one must understand that coming in at No 7, he won't get us too many runs. But if Jadeja and Irfan are both available, then we have option of trying out different combinations," he added.
Asked about any plans earmarked for 2015 World Cup, Dhoni was non-committal.
"It's a long long way to go and you never know what comes up. If today you are saying that experiment of opening with Rohit has worked, had we lost the series, it would have been termed as one of the reasons for our defeat," he said.
On the fifth and final ODI which India lost by seven wickets, Dhoni did admit that toss became a crucial factor.
"It was a bad toss to lose. Initially, in places like Dharamsala or Guwahati where you have an early start, the ball does a bit initially. But this is a good exposure for the younger batsman about how to play when the ball is seaming and swinging. The wicket eased out during the second half and it became easier for batting," he said.
Photograph: BCCI