England captain Alastair Cook rued the absence of the Decision Review System (DRS) in the ongoing tour of India after Kevin Pietersen fell to an umpiring blunder in the third cricket ODI on Saturday, which the visitors lost by seven wickets.
A poor umpiring decision by Indian official S Ravi gave India the prized scalp of Kevin Pietersen, who was wrongly adjudged caught behind off Ishant Sharma's bowling.
"It is frustrating when decisions don't go your way but that happens in all forms of cricket, especially without DRS," he said of the decision, as India took a 2-1 lead in the five-match series.
Cook also said it was a good toss to win for India skipper Mahendra Singh Dhoni.
"It was a good toss to win. We found it hard to judge what a good score was, but all our top six got double figures, so we all got starts," he said.
Defending a paltry 156 was never an easy job and Cook said it would have been a "freak" result had they won.
"We had to attack, but I can't criticise the bowlers or fielders. Clearly 155 was not enough. We didn't get enough runs," he said.
Cook said England's batting failure in the last two games (Ranchi and Kochi) is hurting the team's cause.
"It (batting) is a concern, of course. It is frustrating when you don't play to your potential as a batting unit and we need to do that if we want to win here," he said.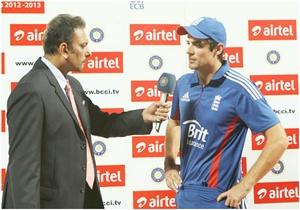 "We've got some quality players in our dressing room who can, on their day, win games for England and if we want to win we need to stand up as batsmen and deliver.
"It is hurting now and it will do for a day or so, but when we go to Mohali we must go with a clear mind and not look for magic answers because we haven't scored runs for a couple of games," Cook said.
"We've got to be clear and start producing the goods out in the middle and not just talk about it," he added.
Cook said it's time to keep it simple without complicating things.
"It is important that we don't go searching for things that aren't there. We can complicate the game at times so perhaps breaking it back down to its simplest form might help us," he said.
"We must not dwell too much on the past because that will hurt you as well."
Blaming the batsmen, the English skipper said: "We got ourselves out with poor shot selection or poor technique.
"It is not just Kevin (Pietersen) and Eoin (Morgan) who have to score runs, the entire batting unit have to score the majority of runs.
"I don't think you can just blame the senior players. What is disappointing is that none of us have performed and if you want to win games someone has to stand up," he said.
"It is a little bit frustrating because there are some good players in the squad. We've picked a squad that we think are good enough to win the series over here," Cook added.
Asked about Indian all-rounder Ravindra Jadeja's sterling performances in the last two ODIs, Cook said: "Jadeja has had two good days against us but if we want to get any confidence then we just have to look back to Rajkot where we played him well."