Reports of a possible rift between India captain Mahendra Singh Dhoni and opener Gautam Gambhir were laughed off by the two senior Team India members on Wednesday evening.
Earlier in the day, a website reported that Dhoni had lodged a complaint with the Board of Control for Cricket in India, tagging Gambhir's approach as "selfish" and "hurtful to the team".
"It is a made up story, just to get publicity for their website. Dhoni and Gambhir had a good laugh about it. There is no rift between them," a player told Rediff.com in Nagpur.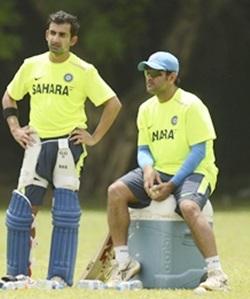 In fact, Dhoni, he said, was reliant on Gambhir to provide him information on the pitch conditions in Kolkata, where the third Test in the ongoing series against England was played.
"The left-hander is captain of Kolkata Knight Riders in the Indian Premier League and Dhoni consulted him before the third Test on the pitch and team composition.
"You will be surprised to know that Dhoni's wife and Gambhir's wife had gone out for dinner during the Mumbai Test," the player added.
India's under-fire skipper was, meanwhile, effusive in praise of Gambhir, who scored two half-centuries in the last two Tests.
"The best thing I like about Gautam is that he is an aggressive character. I always talk about him; he is someone who is really aggressive. I have played with him a lot. In the last few games the way he has batted..., he has played well and he has taken his time. There has been a lot of improvement in his batting. I like him whenever he is aggressive. I don't mean only stepping out and hitting the ball, but even defending the ball positively. It's his aggressive mindset. I think he is batting well," Dhoni told the media on Wednesday evening.
He is confident of Gambhir rising to the occasion in Nagpur as India, down 1-2, look to draw the series.
"He is a big game player and I hope he can convert his starts. He is taking time, but I am hopeful that he can get us a good one."
Gambhir, the player said, was vital in helping Dhoni handle Ishant Sharma in the third Test as the pacer was making a comeback from injury.
"Gambhir was speaking a lot to Ishant in Kolkata. They have been team-mates in domestic cricket for a long time and he spoke to Ishant a lot and also advised Dhoni on what field to have and the length of each spell."
It is learnt that it was Gambhir who convinced Dhoni to include a leg-spinner in the team for the fourth and final Test in Nagpur.
"In fact," the player said, "he had asked Dhoni to include a wrist spinner in the squad after the defeat in Mumbai, but had to bring in leg-spinner Piyush Chawla for the Nagpur match as the hosts look to save the series."