England finally bowled out a determined West Indies for 345 and limped to 10 for two in the evening gloom chasing 191 for victory after an absorbing fourth day of the first Test at Lord's on Sunday.
England captain Andrew Strauss, who scored 122 in the first innings, was out for one in the second over, fending a rapid short delivery from Kemar Roach to Kieran Powell at gully.
Nightwatchman James Anderson also perished, nicking a catch to wicketkeeper Denesh Ramdin down the leg side off the fiery Roach and Jonathan Trott survived a huge appeal for lbw off the first ball he faced.
Alastair Cook and Trott were both unbeaten on nought at the close.
England finally dismissed Shivnarine Chanderpaul for 91 after another innings of brave defiance and he shared a fifth-wicket partnership of 157 with Marlon Samuels who made 86.
Chanderpaul was lbw to off-spinner Graeme Swann shortly before tea, ending a knock lasting 383 minutes in which the limpet-like left-hander was at his tenacious best.
England's bowlers toiled without success under grey skies in the morning, frustrated by the dogged Chanderpaul, the world's top-ranked batsman, and Samuels who eschewed his normal aggressive style to provide solid support for his more experienced partner.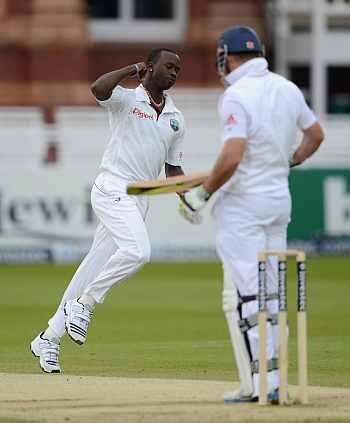 Samuels was first to reach his fifty, made from 97 balls and including seven fours, and Chanderpaul passed the half-century mark for the second time in the match with an inside edge for four off Tim Bresnan.
Samuels welcomed Swann to the attack by cracking him through the covers for two boundaries and England caused few problems for the batsmen on a lifeless wicket.
The hosts finally broke through with the second new ball when Stuart Broad tempted Samuels into an indecisive prod and he edged a regulation catch to Swann at second slip.
Chanderpaul, who made an unbeaten 87 in the first innings, ground relentlessly on towards his 26th Test century, however, and Ramdin proved a good foil.
But Swann struck with the first ball of his third spell, striking Chanderpaul on the pad as he tried to sweep and although the batsman appealed against the umpire's decision, television replays showed the ball would have hit his leg stump.
Chanderpaul faced 250 balls and hit 10 fours but West Indies for once continued to resist strongly after his departure.
Captain Darren Sammy threw his bat in a breezy knock of 37 before he edged a catch to wicketkeeper Matt Prior to give Broad his 10th wicket of the match and Roach drove the same bowler high to Ian Bell at cover.
Ramdin stuck around for nearly three hours, hitting three fours before he was clean bowled by Anderson for 43 and last pair Fidel Edwards and Shannon Gabriel added a useful 20 runs before the latter was bowled by Swann for 13.
Broad finished with four for 93 and Test-best match figures of 11 for 165.
Scoreboard
West Indies first innings 243
England first innings 398
West Indies second innings (overnight 120-4)
A. Barath c Prior b Bresnan 24
K. Powell c Bell b Broad 8
K. Edwards run out 0
D. Bravo b Swann 21
S. Chanderpaul lbw b Swann 91
M. Samuels c Swann b Broad 86
D. Ramdin  b Anderson 43
D. Sammy c Prior b Broad 37
K. Roach c Bell b Broad 4
F. Edwards not out 10
S. Gabriel b Swann 13
Extras (lb 7, nb 1) 8
Total (all out, 130.5 overs) 345
Fall of wickets: 1-36, 2-36, 3-36, 4-65, 5-222, 6-261, 7-307, 8-313, 9-325
Bowling: J. Anderson 36-11-67-1, S.Broad 34-6-93-4 (1nb) T.Bresnan 36-11-105-1, G. Swann 18.5-4-59-3, J.Trott 6-0-14-0
England second innings
A. Strauss c Powell b Roach 1
A. Cook not out 0
J. Anderson c Ramdin b Roach 6
J. Trott not out 0
Extras (nb 3) 3
Total (for two wickets; 4 overs) 10
Fall of wickets: 1-1, 2-10
Bowling: F. Edwards 2-0-3-0 (1nb), K. Roach 2-1-7-2 (2nb)